One of the most important things I realized during my first round of the Whole 30 was how crucial having amazingly tasty food was to my success! I was fine making large batches of chicken or steak to eat for days on end, but having delicious sauces to choose from kept me jumping off the wagon and visiting the closest fast food joint.
So today, I want to share with you my insanely easy 5-minute basil pesto recipe and my favorite hack to ensure you don't let any of your delicious sauce go to waste!
Anytime I create a recipe, my goal is to keep the ingredient list and time commitment small, since who has the time to spend all day in the kitchen for one dish? This recipe
uses a few things I always keep on hand, but does call for a few fresh ingredients that are worth the trip to the store!
If you need substitutions based on a food allergy or lack of a specific ingredient? I've got you covered, just scroll down to my substitution section!
– Rach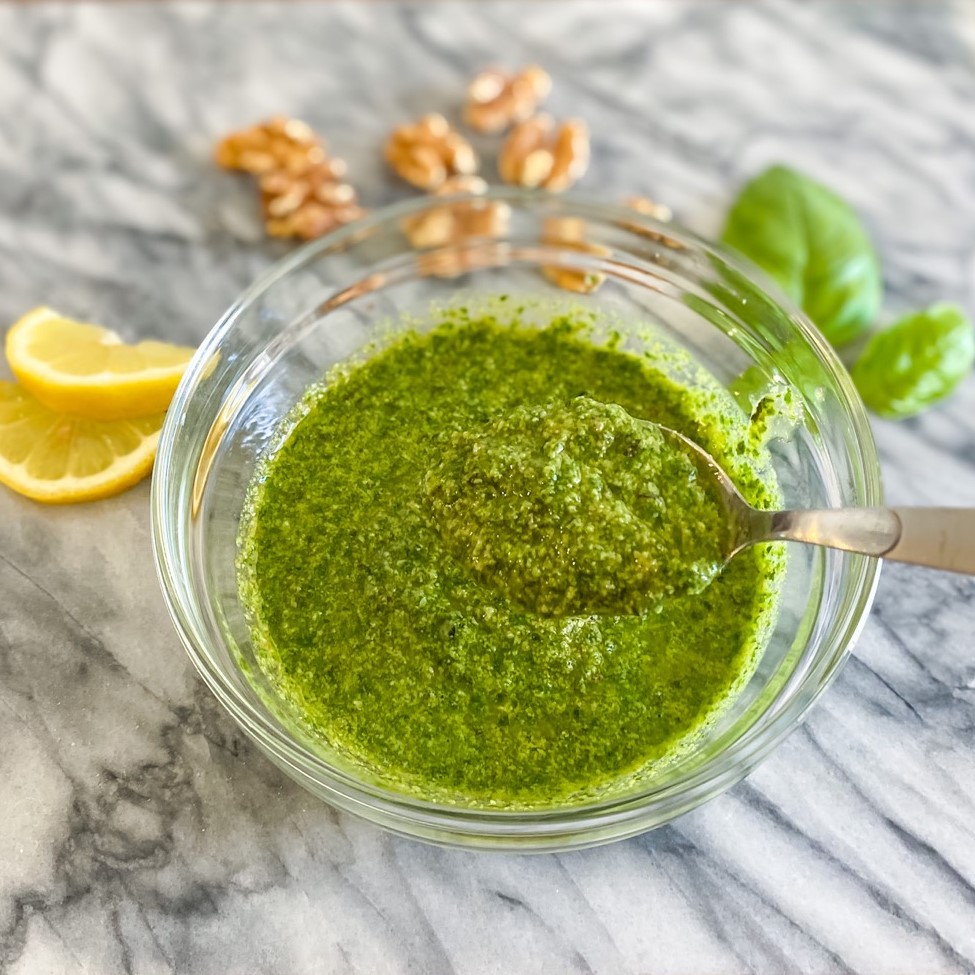 Ingredients
2 cups fresh basil, loosely packed

1 med. sized lemon, zest and juice

1 tsp. salt (Kosher, sea, pink, etc.)

1/4 cup good quality EVOO
Equipment
Food processor or similar attachment for a blender (I use this Ninja Blender, which comes with a food processor attachment so you don't have to buy a separate appliance)

Measuring cups and spoons

Lemon zester (or cheese grater, I got my handheld one at Ikea)

Knife (only for the lemon, you'll tear the basil by hand)

Strainer (doesn't matter what size)
Directions
Start by removing the basil leaves from the stems (just tear them, no need to cut or use scissors) and loosely packing them in a 1 cup measure before transferring to the food processor. (The fresh herb packs I buy from Sprouts are approx. 1 cup of basil each so I just buy two and go directly to the food processor.)

Wash and lightly zest the lemon directly into the food processor. Just be sure to only get the yellow part of the peel and avoid the inner white layer, called the pith. You don't need very much and will end up with about 1 tsp of zest.

Add the garlic, salt, and pine nuts into the food processor (hold off on the olive oil for now). Note: You can add a pinch of red pepper flakes if you like some heat and can substitute cashews or walnuts for the pine nuts if it's all you have on hand!

Pulse the food processor a few times to break up the basil and begin bringing the ingredients together. It is important that you do not let the food processor run at length during this step- I find that 4-5 quick pulses does the trick.

Lastly, with the food processor running, slowly add the 1/4 of olive oil to allow it to incorporate into the rest of the ingredients (typically takes about 30 seconds).

Pour over your favorite meat, veggie, or pasta!

Enjoy!
Substitutions
As someone with food allergies, I am sensitive to the struggle others have with their own dietary restrictions, whether they are voluntary or not. Here are some easy swaps for items in this recipe for an allergy or simply when you don't have an ingredient on hand!
Basil > Arugula, Spinach, Kale
Lemon > Lime, red wine vinegar, white wine vinegar
Pine nuts > Walnuts, cashews, almonds, pecans
Sauce
Hack!
If you're looking to use a single serving at a time, or want to save the pesto for a later date, this is the way to go.
I bought a $1 silicone ice cube tray from Ikea and simply portioned the pesto equally into the 9 sections and froze it! Once the sauce is frozen, remove the cubes from the tray and store in an airtight container in the freezer.

When you're ready, simply take out 1-2 cubes (depending on how much you want) and pop in the microwave for 30 seconds to return to liquid form! You can very easily use this method for any sauce that does not contain a creamy product (I avoid any mayo or coconut/almond milk based sauces).

Currently my freezer has pesto, chimichurri, and BBQ sauce in it, that I can pull out and use at any time!
Have a question, comment, or request for an upcoming recipe? Drop me a line in the comments!