Paradise Bakery Copycat Pasta Salad
I grew up eating at Paradise Bakery and the pasta salad was a a staple in my usual order! Since I went paleo and stopped eating gluten and dairy, I haven't indulged in a pasta salad, and boy did I miss it!

This recipe only takes 10 minutes to make, is family friendly, and will be the perfect make ahead side dish for your summer BBQs! While you can use any boxed pasta you like, I use Jovial Foods grain free pasta, which you can find on Amazon or in most health food stores.

Be well, stay real, — Rach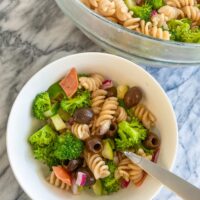 – 8oz box of grain free pasta (I used Jovial Foods cassava fusilli)
– 2 cups raw broccoli florets, cut very small
– 1 cup diced cherry tomatoes (I omit since I don't like raw tomatoes)
– 1 can black olives, drained (can slice in half if you're feeding young kids)
– 1 cup diced cucumber (I removed the seeds)
– 1/2 a red onion, small diced
– 1 Tbsp salt
– 1/2 cup @primalkitchenfoods Greek dressing
– Optional: Diced chicken, sliced pepperoni, or crumbled feta (depending on your dietary preference)
1. Make the pasta first by boiling water, adding the salt, and cooking until al dente (follow box instructions and don't overcook). Prep your veggies while the pasta cooks.
2. Strain the pasta and rinse with cold water to stop the cooking and reduce some of the starch.
3. Add all ingredients to a large bowl and toss with the dressing.
4. Taste test and add more dressing or salt and pepper as needed.
5. While you can enjoy immediately, it tastes much better if you let it sit in the fridge overnight!
I hope you enjoyed this recipe! If you did, I'd mean the world to me if you saved it on Pinterest, recommended it to a friend, gave me a follow on Instagram, or left a review for the recipe below! Have a question, comment, or request for an upcoming post? Drop me a line in the comments!