Taco Tuesday is one of my favorite days, and I love that I can enjoy it even during a round of Whole30! I have found that I enjoy the flavors of a taco more than physically eating a taco in a tortilla.
That's why I'm excited to share my ridiculously easy Whole30 taco bowl that you can whip up any day of the week! All of the ingredients are cooked separately so if you want to enjoy some tortillas, or your family isn't on Whole30, go for it! You'll love the ancho chile spices in the taco meat and being able to create your own flavor combo for toppings.
Enjoy your next at home fiesta, whether it's on Tuesday or not!
Be well, stay real — Rach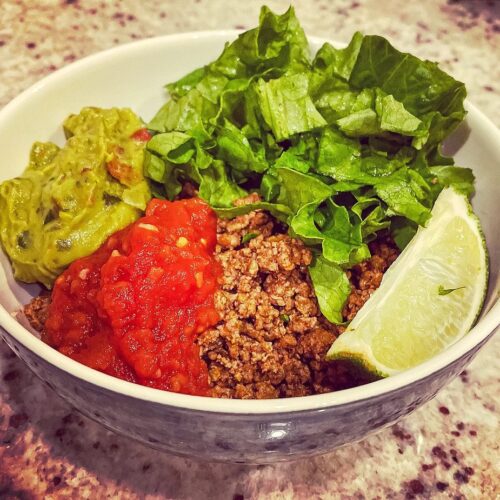 2 lbs grass fed ground beef or organic turkey

2 Tbsp Primal Palate taco seasoning (I like to do 1 Tbsp per pound of meat, but you can adjust based on how spicy you like it)

1/2 cup water or bone broth

Whole30 compliant toppings like: salsa, guacamole, and shredded lettuce (I get everything from Sprouts)

1 cup of my Chipotle copycat cilantro lime rice per bowl (grab the recipe here)
Heat a large skillet over medium heat and add the ground beef or turkey.

Cook until fully browned, consistently stirring and turning the meat to avoid burn spots.

If using beef, drain off the liquid fat and return to burner over medium low heat.

Add taco seasoning and mix well, then add water or bone broth.

Allow meat to simmer for 10 minutes until liquid has reduced to make a nice, thick sauce.

Build your bowl by adding cilantro lime rice first, then meat, then your desired toppings.

Enjoy the heck out of your Taco Tuesday fiesta!
I hope you enjoyed this recipe! If you did, I'd mean the world to me if you saved it on Pinterest, recommended it to a friend, gave me a follow on Instagram, or left a review for the recipe below! Have a question, comment, or request for an upcoming post? Drop me a line in the comments!