Chipotle Copycat Cilantro Lime Cauliflower Rice
Chipotle's rice is one of my favorites and I was dying to create a copycat that I could enjoy during my Whole30! While Chipotle created their own cauliflower rice, it was extremely expensive to upgrade to, and was short lived on their menu.

The good news is: I've created the perfect copycat recipe using cauliflower rice so you can enjoy it anytime you wish and there's no upcharge!

I love using this as a base for burrito bowls, lettuce wrap tacos, and in my Mexican egg skillet. I think you'll find this to be a staple in your kitchen and I love making a big batch and freezing it so I always have some on hand! I hope you enjoy!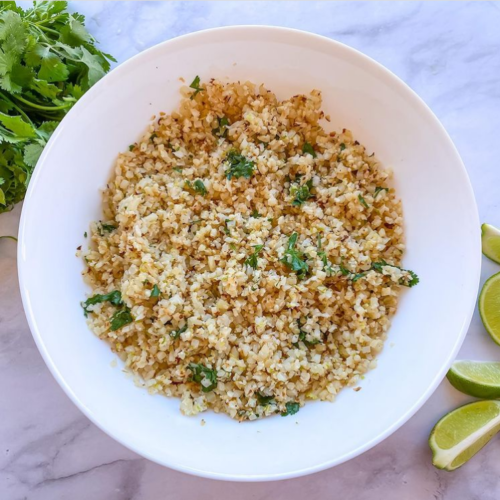 1 bag rice cauliflower

1/2 yellow onion, diced

2 cloves garlic, minced

2 limes, zest and juice

1 bunch cilantro, chopped
Heat a medium skillet over medium heat and drizzle with avocado oil.

Add onion to pan and allow to cook for 2-3 minutes until soft but not brown.

Add garlic and cauliflower rice to pan and allow to cook for 7-10 minutes, stirring occasionally, until all moisture has evaporated and rice is beginning to brown.

Add lime juice and allow to cook for another 3-4 minutes until all moisture has been absorbed.

Remove pan from heat, fold in lime zest and cilantro, and salt and pepper to taste.

Serve immediately, refrigerate for up to 5 days, or portion and freeze for up to a month.
I hope you enjoyed this recipe!
I hope you enjoyed this recipe! If you did, I'd mean the world to me if you saved it on Pinterest, recommended it to a friend, gave me a follow on Instagram, or left a review for the recipe below! Have a question, comment, or request for an upcoming post? Drop me a line in the comments!