Why I Supplement with Collagen
If you've been following me for awhile, you know I love my morning smoothies and always include collagen in the mix! Collagen is the vital building block of our bodies including skin, hair, nails, bones and joints.
Our bodies cannot synthesize enough collagen on their own and our diets today contain minimal collagen. Read on for more of the amazing benefits of collagen and my quick and easy chocolate banana smoothie recipe!
Helps support support joint and bone health
Helps promote a youthful appearance
Helps support athletic performance
Helps support hair, skin and nail health
Helps support overall wellness
If you decide you want to give Vital Proteins a try, follow this link for $10 off your first purchase!
Be well, stay real, –– Rach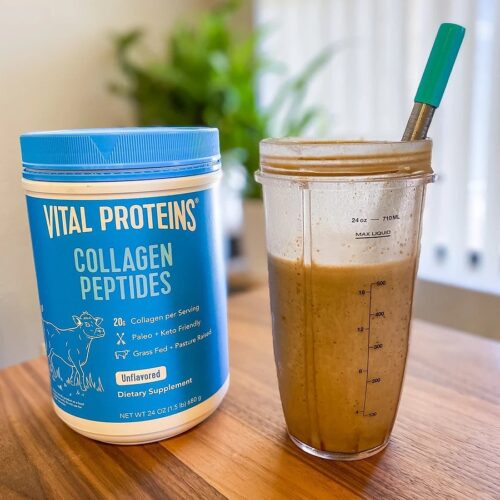 1 serving @vitalproteins collagen peptides

8 oz milk of choice (I use almond)

1/2 frozen banana

2 Tbsp flax seeds

1 Tbsp cacao powder

1 Tbsp cacao nibs

1 Tbsp almond butter

Large handful of greens

Handful of ice
Add all ingredients except ice to your blender and blend on high for 60 seconds.

Add ice (and extra milk or water if needed) and blend for another 60 seconds for the perfect consistency.

Enjoy the deliciousness and benefits of this superfood smoothie!
I hope you enjoyed this recipe! If you did, I'd mean the world to me if you saved it on Pinterest, recommended it to a friend, gave me a follow on Instagram, or left a review for the recipe below! Have a question, comment, or request for an upcoming post? Drop me a line in the comments!