Whole30 Chicken Noodle-less Soup
Anytime I'm feeling under the weather, or just want to warm up, chicken noodle soup is my go-to. However, if you have an allergy to ingredients in noodles, or are doing a Whole30, this recipe is the perfect to satisfy your craving without derailing your food goals.
You can have this ready in under 3 hours (with only 30 minutes of actual working time!) and it freezes perfectly so you can always have some on hand and ready to go at a moment's notice. I hope you enjoy!
Be well, stay real — Rach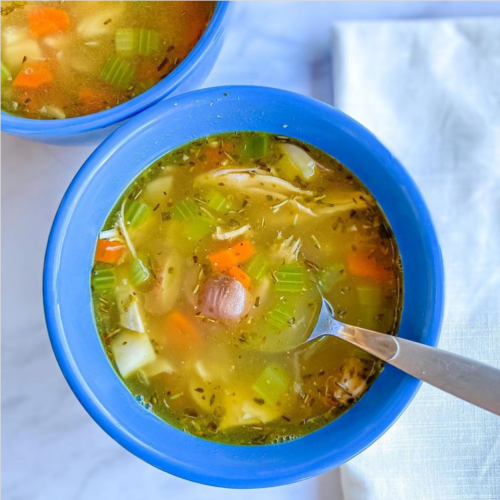 1 whole rotisserie chicken (I only buy them from Whole Foods or Sprouts to avoid additives and low quality meat)

4 cups water

8 cups chicken bone broth (my favorites are Sprouts and Thrive Market brands)

2 bay leaves

1 large onion, quartered

4 large carrots, small diced

6 stalks celery, small diced

1.5 cups red potatoes, small diced

1 tsp each of oregano, thyme, and rosemary

2 tsp salt (plus more to taste)

1 tsp black pepper (plus more to taste)

Optional: 1 cup broccoli florets or chopped kale
Begin by removing the breast and main parts of the thighs from the chicken.

Add meaty chicken frame to a large stock pot along with the onion, bay leaves, salt, water, and bone broth. It is important that the chicken frame is completely covered so you may need to break it down.

Bring contents to a boil, reduce to a simmer, cover, and allow to cook for 2 hours.

Once the broth has been started, prepare your veggies and chop up the chicken you removed from the frame.

After 2 hours, remove all contents from the pot, only leaving the broth. You can use a strainer if you have one, but I just use a slotted spoon. Discard the onion and bay leaves and allow the chicken frame to cool before handling.

Keeping the broth at a simmer, add carrots and potatoes to the pot along with your spices to give them the most time to cook.

5 minutes later add the celery and broccoli and/or kale (if using).

While waiting for veggies to cook, use your hands to remove any remaining meat from the chicken. You should end up with 2 cups.

Add chicken at the very end to warm through and season with salt and pepper to taste.

Enjoy immediately or freeze for up to a month!
I hope you enjoyed this recipe! If you did, I'd mean the world to me if you saved it on Pinterest, recommended it to a friend, gave me a follow on Instagram, or left a review for the recipe below! Have a question, comment, or request for an upcoming post? Drop me a line in the comments!