Watermelon Lime Refresher Whole30 Mocktail
This post may contain affiliate links. Please read my disclosure policy.
Note: This recipe is Whole30, Paleo, Gluten Free, Dairy Free, Soy Free, Vegan, and Keto friendly!
I don't know about you guys, but the Covid-19 pandemic and stay-at-home order have certainly cramped my kick off to summer! I was supposed to be enjoying a Hawaiian vacation at the beginning of May along with endless weekends by the pool with friends now that it's over 100 degrees here in Phoenix!
Since we can't change what's going on in the world right now, I thought I could at least bring some of the bright flavors of summer into my kitchen! This mocktail is fruity, light, and additively delicious! You'll definitely be whipping these up for an at home date night, day by the pool, or the next time you fire up Moana on Disney+. However you choose to enjoy it, I know you'll love this one!
Mahalo, friends!
xoxo -R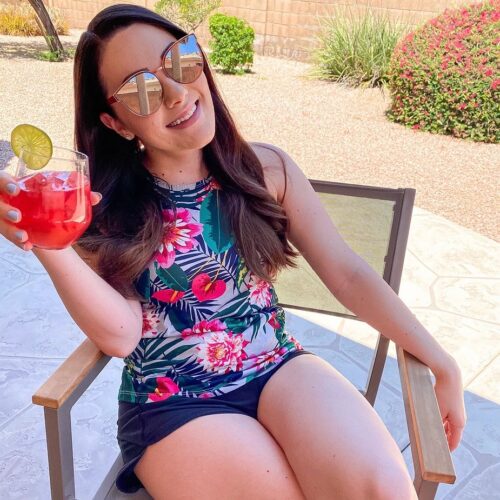 Celestial Tea Watermelon Lime Zinger tea (4 bags)

Fresh limes

Cubed watermelon

Lime or key lime La Croix sparkling water

Optional for non-Whole30: 2 oz or tequila, rum, or vodka
Steep the tea bags in 2 cups of cold water overnight in the fridge to make some really strong tea.

Place cubed watermelon in the freezer for some ice cubes that won't water down your drink.

When you're ready to go, start by adding 1 cup of frozen watermelon cubes to a glass (preferable a fun one).

Add 2 to 3 oz. of the strongly brewed iced tea to the glass and the juice of 1/2 of a lime (add alcohol here if using).

Top with some lime or key lime La Croix and garnish with a lime wheel.

Close your eyes, picture the beach, and enjoy! The best part is eating the watermelon when you're done with the drink 😋🍉
I hope you enjoyed this recipe! If you did, I'd mean the world to me if you saved it on Pinterest, recommended it to a friend, gave me a follow on Instagram, or left a review for the recipe below! Have a question, comment, or request for an upcoming post? Drop me a line in the comments!
[WPRecipeMaker condition="recipe" related="whole 30" limit="5"]