Versatile Whole30 Garlic Meatballs
This post may contain affiliate links. Please read my disclosure policy.
Note: This recipe is Whole30, Paleo, Gluten Free, Dairy Free, Soy Free, and Keto friendly!
One of my favorite meal prep items is turkey meatballs. I can easily make a few dozen in less than an hour and keep them on hand in the freezer (which is a life saver during Whole30)! By using a simple recipe, you can easily switch up the sauce so you don't get bored 👏🏻
The best part about this recipe is how well it works with different types of sauces. When I make my Whole30 Italian meatballs, I usually only serve them up with marinara, pesto, or alfredo sauce, but these garlic meatballs lend themselves well to curry, buffalo, and BBQ as well! Whip up a batch of these, freeze them, and then customize to your heart's desire!
xoxo -R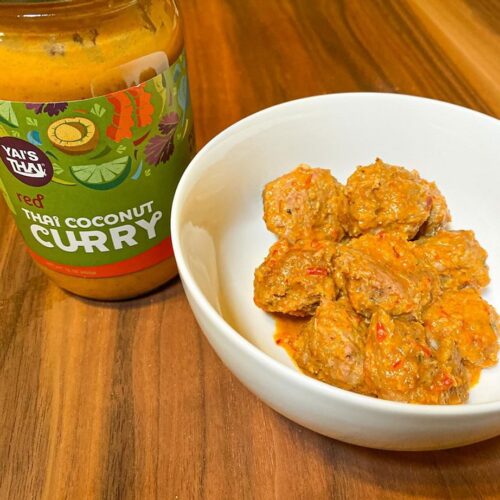 2.5 pounds ground turkey

1/4 cup almond or coconut flour

2 eggs

1 Tbsp coconut oil

2 Tsp onion powder

2 Tsp garlic powder

1 Tsp kosher or sea salt

1/2 tsp red pepper flakes

Generous shake of freshly ground black pepper

Your choice of sauce: marinara, pesto, alfredo, curry, and buffalo all work well!
Preheat oven to 350 degrees and line 2 roasting pans with foil.

Combine all ingredients (except sauce) in a large mixing bowl by hand. I find this gets the greatest incorporation of the flour and eggs into the meat.

Using an ice cream scoop or tablespoon, portion meat into your hand and gently roll into a ball. Place on baking sheet and repeat until all meatballs are made.

Bake in preheated oven for 25 minutes.

Once meatballs are done, allow to cool completely before transferring to a freezer safe bag or container.

When you're ready to eat, portion meatballs into a microwave safe bowl and defrost/reheat.

Top with your sauce of choice and warm through. Enjoy!
I hope you enjoyed this recipe! If you did, I'd mean the world to me if you saved it on Pinterest, recommended it to a friend, gave me a follow on Instagram, or left a review for the recipe below! Have a question, comment, or request for an upcoming post? Drop me a line in the comments!
[WPRecipeMaker condition="recipe" related="whole 30" limit="5"]