Vegan banana bread muffins
This post may contain affiliate links. Please read my disclosure policy.
Banana bread may be the Queen of brunch and something I make almost every single weekend! This delicious treat should be enjoyed by all, which is why I've created the perfect vegan friendly version you're going to love!
This recipe is so good, you'll never guess that it's free from eggs, dairy, and gluten, is paleo friendly, and naturally sweetened. My husband actually prefers this recipe to my paleo banana bread, but I don't think you can go wrong either way!
Whip this up using a few simple ingredients you probably already have in your pantry, and you'll be in banana bread heaven in no time! Grab the full recipe below, share it with your besties, and save it yo your favorite Pinterest board so you don't lose it.
Be well, stay real, – Rach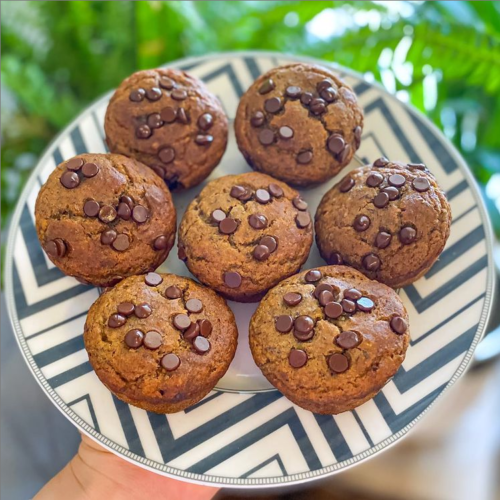 2 overripe bananas

4 Tbsp flax meal (also called ground flax seeds)

5 Tbsp water

1/4 cup maple syrup

1 Tbsp coconut oil

1 Tsp vanilla

1 cup almond or GF flour (I used @bobsredmill 1:1)

1 Tsp baking soda

1 Tsp cinnamon

1/2 Tsp

1/4 cup dairy free chocolate chips (plus extra to sprinkle on top. I used @enjoylifefoods mini chips)
Preheat your oven to 350 and prep a muffin tin with coconut oil or silicone cups.

In a small bowl, whisk together the water and flax meal. Set aside for 5 minutes.

In a blender, blend together the bananas, maple syrup, coconut oil, and vanilla until smooth (usually 20-30 seconds is good).

Transfer the banana mixture to a mixing bow and fold in the flax meal.

Add the flour, baking soda, cinnamon, and salt and mix well again to combine fully.

Fold in the chocolate chips and divide between your muffin tins. Sprinkle the top with extra chocolate chips if you wish.

Divide batter evenly between the muffins in your tin. Depending on the size of your pan, it may make 9-12.




Bake for 25-30 minutes. Check doneness with a knife or toothpick and you'll know they are done with the knife comes out clean and the top is golden brown.

Carefully muffins from the oven and allow to cool on a rack to avoid circulate air and overcooking.

Serve up muffins and enjoy!
I hope you enjoyed this recipe! If you did, I'd mean the world to me if you saved it on Pinterest, recommended it to a friend, gave me a follow on Instagram, or left a review for the recipe below! Have a question, comment, or request for an upcoming post? Drop me a line in the comments!
[WPRecipeMaker condition="recipe" related="whole 30" limit="5"]