Two Ingredient Whole30 Queso
This post may contain affiliate links. Please read my disclosure policy.
Note: This recipe is Whole30, Paleo, Gluten Free, Dairy Free, Soy Free, Vegan, and Keto friendly!
I love queso and it's one of the things I missed quite a bit when I went dairy free. I have tried a bunch of dairy free options, but this is the only one that I though actually tasted super yummy! Whether you're on Whole30 or not, you'll love that this is dairy free, vegan, and takes less than 5 minutes to make!
It's perfect for chips, veggies, on tacos, or for homemade nachos! I'm all about easy, semi-homemade recipes that'll wow guests at a party, or help you punch up the flavors in a weeknight dinner. Next time you're craving a sugary snack, grab some cucumbers or carrot sticks and a serving of queso! You'll be surprised at how healthy fats curb hunger and sugar cravings, and the flavors are on point! Grab the details below and enjoy!
Be well, stay real,
xoxo -R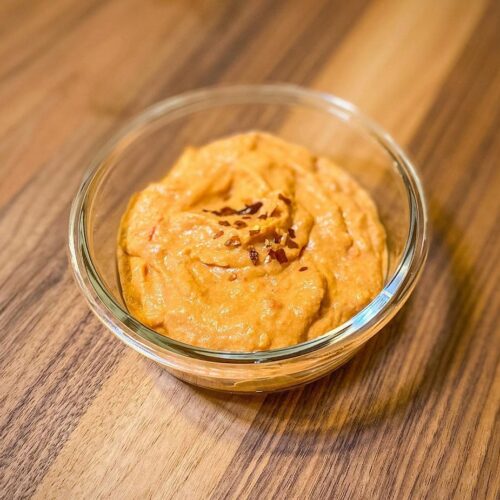 1 container of Cashew Fiesta dip from @traderjoes

1 jar of Whole30 approved salsa (any variety will work, just read your labels!)
Place the entire container of the cashew dip in a microwave safe bowl and add 1/2 cup of salsa. Mix to combine slightly.

Microwave for 30 seconds then mix again. Add more salsa slowly, microwaving in between, until you get the perfect consistency. (I usually end up using around 1 cup of salsa for a dip and 1 1/2 for more of a sauce for nachos/tacos).

Serve it up with your favorite dipping vessel or entree!
I hope you enjoyed this recipe! If you did, I'd mean the world to me if you saved it on Pinterest, recommended it to a friend, gave me a follow on Instagram, or left a review for the recipe below! Have a question, comment, or request for an upcoming post? Drop me a line in the comments!
[WPRecipeMaker condition="recipe" related="whole 30" limit="5"]