The BEST Paleo Chocolate Zucchini Muffins Ever
If you grew up eating (or still enjoy) the big chocolate muffins from Costco then it's your LUCKY DAY! These muffins taste exactly like the Costco ones, but are paleo friendly and free from gluten, dairy, soy, and refined sugar.
These muffins also pack a healthy punch with a serving of veggies inside that you'll never know is there. It's perfect for picky eaters like your kids, spouse, or even yourself! I also cut down on my prep time by shredding a bunch of zucchini and freezing it so it's ready to go when I want to bake (you're welcome in advance!) Grab the full recipe below, watch the video walkthrough of the recipe on my IGTV, and ENJOY!
Be well, stay real — Rach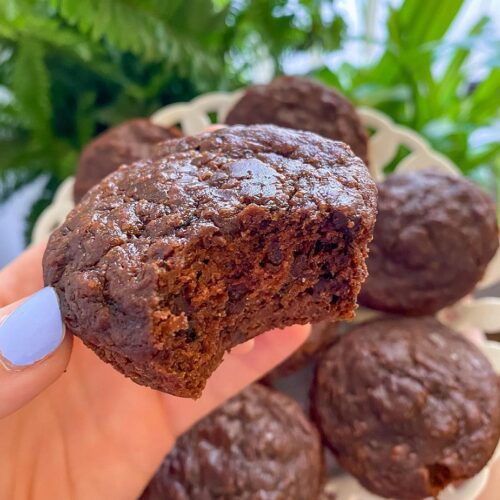 1 medium zucchini, washed and dried

1 & 1/4 cup nut flour of choice

1/4 cup cacao powder, sifted

1/4 cup coconut oil, melted

1/4 cup maple syrup

2 eggs, at room temp

1 Tsp vanilla

1 Tsp baking soda

1 Tsp salt

1/2 Tsp baking powder

1/2 cup paleo chocolate chips (I use Hu Kitchen)
Preheat your oven to 350 and spray a muffin tin with avocado or coconut oil spray.

Trim one end off the zucchini and run it through the fine grating side of a cheese grater (no need to peel it!)

Transfer the shredded zucchini to a bowl lined with a towel or a few sheets of paper towels and wring out the moisture until the zucchini is mostly dry. Set aside.

In a large bowl, whisk together the coconut oil, maple syrup, and vanilla extract.

Add the eggs and whisk again until well combined. (It's important that the eggs are at room temp to keep the coconut oil from seizing up).

Switch to a rubber spatula and fold in the cacao powder, nut flour, baking soda and powder, and salt. Add the chocolate chips and 1 cup of shredded zucchini (freeze the rest for a future batch) and fold until evenly combined.

Using an ice cream scoop, divide the batter between the 12 muffin tins and bake for 25-30 minutes. Remove when a knife or toothpick comes out clean.

Allow to cool then remove by running a knife around the edge of the muffin. Enjoy immediately, refrigerate for up to a week, or freeze for up to 3 months.
PRO TIP: These muffins are so good cold that I don't even bother eating them right out of the oven!
I hope you enjoyed this recipe! If you did, I'd mean the world to me if you saved it on Pinterest, recommended it to a friend, gave me a follow on Instagram, or left a review for the recipe below! Have a question, comment, or request for an upcoming post? Drop me a line in the comments!