The Best Paleo and Vegan Chocolate Chip Cookies
If you listened to my hubby's episode of the Real Health with Rach podcast, then you know that his favorite treat meal is chocolate chips cookies!
Chocolate chip cookies should be a staple in every household (in my opinion) and these are ones everyone can enjoy since they are allergy friendly, vegan, gluten free, and 100% DELISH! Whether you're a fan of the chocolate drizzle, or massive chocolate chunks, you can't go wrong. You won't miss the eggs, dairy, or gluten in these cookies, but will love that they taste just like the chocolate chip cookies from your childhood!
I know you'll be making this recipe on repeat, so be sure to save and share it!
Be well, stay real –-Rach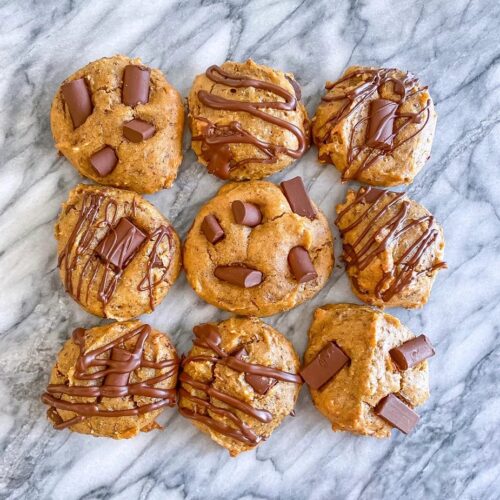 Ingredients (makes 12 cookies)
1/2 cup nut butter of choice (Look for ones with only two ingredients: nuts and salt)

1/2 cup maple syrup

4 Tbsp ground flax seeds

5 Tbsp water

1 Tbsp applesauce

1 Tsp vanilla

1/4 cup + 2 Tbsp GF flour (I always use Bob's Red Mill 1:1 GF Flour)

1 Tsp baking soda

1/2 Tsp salt

1/2 cup chocolate chips (I use Enjoy Life or Hu Kitchen)

Optional for chocolate drizzle: 2 Tbsp chocolate chips + 1/2 Tsp coconut oil
Preheat your oven to 350 and line a baking sheet with parchment.

In a small bowl, whisk together the ground flax and water, set aside for 5 minutes. (Cab sub 2 regular eggs if you aren't vegan).

In a large bowl, mix together the nut butter & maple syrup (whisk or spatula is fine).

Mix in the flax eggs, applesauce, and vanilla until smooth.

Fold in the flout, salt, and baking soda until 80% combined. Add in the chocolate chips and fold to combine the rest of the way.

Using an ice cream scoop, portion out the cookies and bake for 13-16 minutes until they spring back when pressed and are golden brown.

If using, make the chocolate drizzle by melting the 2 ingredients together in the microwave in 30 second intervals, stirring in between. Top the cookies generously while still on the baking sheet.

Let cool and enjoy!
** PRO TIP: These cookies seem to only get tastier over time, so keep them at room temp is an airtight container!
I hope you enjoyed this recipe! If you did, I'd mean the world to me if you saved it on Pinterest, recommended it to a friend, gave me a follow on Instagram, or left a review for the recipe below! Have a question, comment, or request for an upcoming post? Drop me a line in the comments!