Whole30 Sweet Potato Toast
This post may contain affiliate links. Please read my disclosure policy.
Note: This recipe is Whole30, Paleo, Gluten Free, Dairy Free, and Soy Free!
I've been making some fancier breakfasts on the weekend and this toast satisfied my craving for a normal weekend brunch! If you've never attempted sweet potato toast at home, now feels like the perfect time and I love the limitless topping combos.
Once you've got the basics of this recipe down, it is so easy to change up your toppings so you never got bored. Personally, I prefer savory breakfast foods, but this is just as delish with some nut butter and fruit! However you choose to make them, you'll be glad you did (I definitely ate these two in under 2 minutes flat because they're so good!)
xoxo -R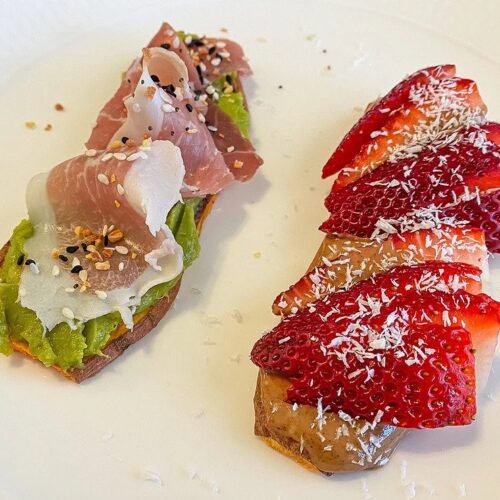 1 large, oblong sweet potato

Topping of your choice, here are some of my favorite combos:
Avocado, prosciutto, and #everythingbutthebagel seasoning

Chipotle Mayo, shredded chicken, and salsa

Egg salad with avocado, mayo, salt, and pepper

Almond butter with sliced strawberries and coconut

Cashew butter with sliced banana and cinnamon
Begin by throughly washing and drying your sweet potato.

Remove the ends and create a flat surface on one side so it doesn't roll around.

With a large knife, carefully cut the sweet potato lengthwise into sliced, about 1/4-1/2 inch thick (they won't be perfect, it's okay) and you should end up with 3-5 slices.

Cut the sweet potato down on the ends to fit the length of your toaster.

With the toaster set on medium heat (I did a 4 out of 8), let the sweet potatoes cook.

Once the toaster is done, I unplug it, fish the sweet potato out with tongs, flip it, and let it run again. Repeat steps 5 and 6 until the sweet potato is fully cooked and toasted (mine took 4 rounds).

Once the sweet potato is done, allow to cool slightly and then top with whatever you're in the mood for!
I hope you enjoyed this recipe! If you did, I'd mean the world to me if you saved it on Pinterest, recommended it to a friend, gave me a follow on Instagram, or left a review for the recipe below! Have a question, comment, or request for an upcoming post? Drop me a line in the comments!
[WPRecipeMaker condition="recipe" related="whole 30" limit="5"]