Super Simple Whole30 Taco Seasoning
This post may contain affiliate links. Please read my disclosure policy.
Note: This recipe is Whole30, Paleo, Gluten Free, Dairy Free, Soy Free, and Keto friendly!
They say that necessity is the mother of invention, and that is 100% true with this recipe! I'm usually too lazy to make my own seasoning mix and like to buy prepackaged options from the grocery store (after reading the label, of course!). Well in light of recent events and store shelves being empty, I couldn't find a taco seasoning mix that met my criteria. However, the spice rack was completely full so I stocked up and headed home. After some trial and error, I came up with the perfect mix for a Whole30 approved taco seasoning that I can have on hand and ready to go at a moment's notice (maybe I should get a tiny holster made for it too… anyways, I digress).
Not only will you feel so accomplished (and like Julia Child) making your own spice mix, but you'll be eliminating any added salt or sugar that may be lurking in a spice packet. I love using this mix for ground taco meat and fajitas, but really, the options are endless! Need to season chips? Need to add some punch to roasted veggies? Need to feed your plants? Well, I've got you covered (except maybe don't actually use this on your plants).
Be well, stay real,
xoxo -R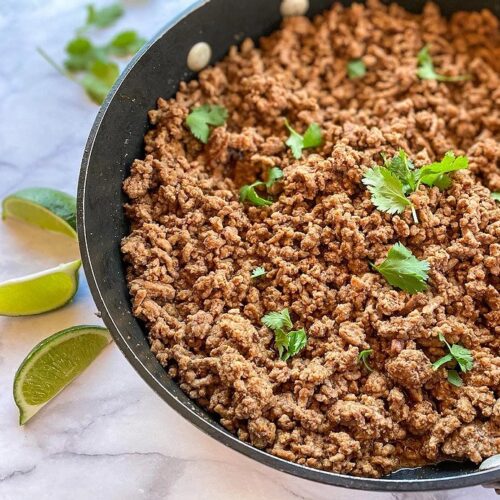 (For the tacos, per pound of meat)
1 lb ground beef, chicken, or turkey

1 Tbsp taco seasoning mix

1/4 to 1/2 cup water or broth

Sprinkle of salt and pepper
⠀⠀⠀⠀⠀⠀
(For the seasoning mix)
1/4 cup of chili powder

1 Tbsp garlic powder

1 Tbsp onion powder

1 Tbsp ancho chile powder

1 Tbsp cumin

1 Tsp oregano

1 Tsp salt

1 Tsp black pepper
Combine all spices in a Tupperware or jar and shake well. This will keep in your spice cabinet for 6 to 12 months and is all you need to season your tacos! (It also makes a great gift for the taco lovers in your life)

Cook your ground meat over medium high heat, stirring occasionally, until cooked through. Season with salt and pepper during this step.

Drain off any fat and return the pan to low heat.

Add the taco seasoning mix, stir well, then add the water or stock and stir again.

Let simmer for a few minutes until the liquid is absorbed and the spices are fragrant.

Serve immediately with lettuce wraps or in a bowl and top with whatever your heart desires (or store in the fridge for up to 5 days).
I hope you enjoyed this recipe! If you did, I'd mean the world to me if you saved it on Pinterest, recommended it to a friend, gave me a follow on Instagram, or left a review for the recipe below! Have a question, comment, or request for an upcoming post? Drop me a line in the comments!
[WPRecipeMaker condition="recipe" related="whole 30" limit="5"]