Whole30 Simple Sesame Salmon
Okay, there are other ingredients in this recipe, but I really just wanted to use the alliteration. (Ya feel me?)
Admittedly, I'm not a huge fish person (outside of sushi), so when I make fish at home, it has to be perfectly seasoned and cooked. This recipe is a 10/10 and I love the Asian inspired flavor combo! I usually serve it up with some stir-fry veggies or my Whole30 fried rice (which you can grab the recipe for here).
Whether you're already a salmon devotee or are looking for a super flavorful way to add more fish to your diet, I know you'll love this one! It takes less than 5 minutes to prep and cooks in 12-15, so it's perfect for a quick weeknight meal. I know you're going to love it!
Be well, stay real — Rach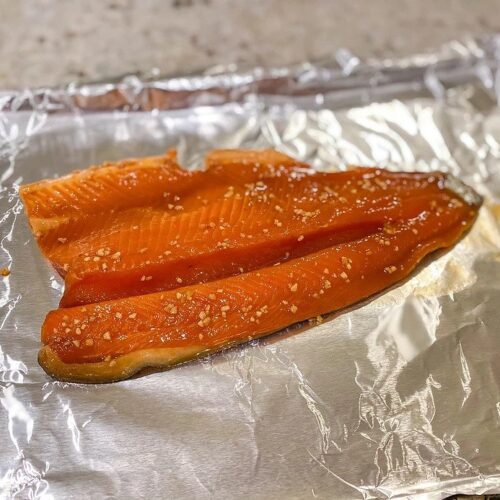 (All of these are per serving of salmon – 6 to 8 oz – and I used a larger filet that was 2 servings)
1 salmon filet

2 Tbsp coconut aminos (I use Thrive Market brand)

1 Tbsp toasted sesame oil (I use Trader Joe's brand)

2 cloves garlic, minced

2 pieces of fresh ginger (about the size of a blueberry each)

Optional: 1 Tsp Whole30 approved hot sauce (I love Trader Joe's Jalapeño hot sauce and Yellowbird Sriracha)
Using a ziploc or reusable silicone bag, add salmon and all ingredients. Give it a good mix and allow to marinate in the fridge overnight.
2. When you're ready to cook, preheat your oven to 450 degrees and line a baking sheet with foil.
3. Give it a light spray with avocado oil to avoid the skin sticking and then place the salmon, skin side down, on the baking sheet.
4. Bake for 8-10 minutes for individual filets and 10-15 for a larger filet (depending on its size). I cooked this 10 oz piece for 10 minutes and it was perfect!
5. Remove from oven, allow to cook slightly, then remove from pan and serve immediately. This also works great the next day on a salad for lunch!
I hope you enjoyed this recipe! If you did, I'd mean the world to me if you saved it on Pinterest, recommended it to a friend, gave me a follow on Instagram, or left a review for the recipe below! Have a question, comment, or request for an upcoming post? Drop me a line in the comments!