This post may contain affiliate links. Please read my disclosure policy.
Note: This recipe is Whole30, Paleo, Gluten Free, Dairy Free, Soy Free, and Keto friendly!
I am a huge fan of easy protein recipes that I can make in the crockpot and have ready to eat all week long! I usually meal prep on Sundays and this chicken only takes a few hours in the crockpot and you can easily double or triple this recipe if you're feeding an army.
If you're unsure of how to use this tasty protein, here are a few of my favorite ways. First, and probably the most obvious, it is a wonderful addition to Taco Tuesday! Whether you're on Whole30 or not, you'll love this chicken on tortillas, lettuce cups, or in a taco bowl. It is also a great topping for homemade nachos (which I make with my fave Siete chips!).
xoxo -R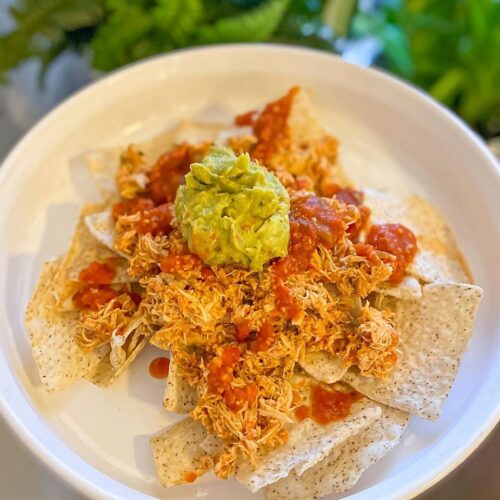 (per pound of chicken and I usually make at least 2lbs for meal prep)
1 lb pastured raised, boneless and skinless chicken breast

1 cup#whole30approvedsalsa (any kind works, so use your favorite and just be sure to check your labels)

1/3 cup chicken bone broth, vegetable broth, or water (if you don't have anything else on hand)
Add all ingredients to the crockpot and mix well with tongs to coat the chicken.

Set on HIGH and let cook for 4 hours, stirring once half way through.

Turn the heat off and shred chicken right in the crockpot with two forks.

Allow to sit for 15 minutes to soak up the yummy salsa and stock before serving.

Make your favorite tacos, nachos, or salad bowl and enjoy! (This protein will keep in the fridge for 5 days and can be frozen).
I hope you enjoyed this recipe! If you did, I'd mean the world to me if you saved it on Pinterest, recommended it to a friend, gave me a follow on Instagram, or left a review for the recipe below! Have a question, comment, or request for an upcoming post? Drop me a line in the comments!
[WPRecipeMaker condition="recipe" related="whole 30" limit="5"]