Easy egg and veggie skillet
Breakfast foods are my absolute favorite, and I'll eat them for any meal of the day! On days where I'm tired or out of meal prepped food, this skillet is a lifesaver. I always keep frozen veggies in my freezer and eggs in my fridge so this is a breeze to make.

This recipe only needs one pan, ten minutes, and whatever veggies you have on hand (fresh or frozen). I find it's a great way to use of veggies that are leftover in the fridge or about to go bad, since everything will wilt down in the pan anyways!
Whether you're making breakfast, breakfast for dinner, or serving up something special for breakfast in bed, I promise this is a winner, enjoy!
Be well, stay well — Rach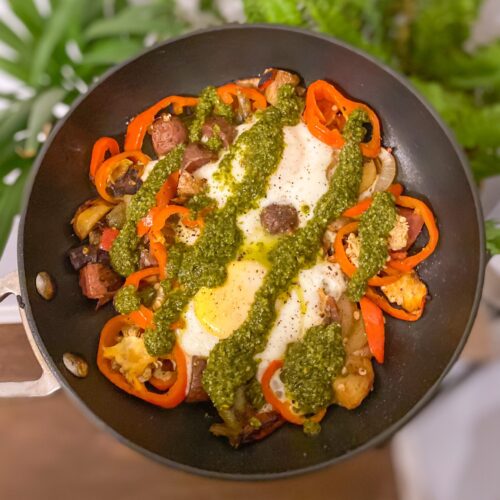 1/2 cup frozen cubed sweet potato

1 cup frozen tri-colored bell peppers (I buy mine at @traderjoes)

1 cup spinach (fresh or frozen)

2 whole eggs

1 Tbsp avocado oil

1 Tbsp water

Generous shake of Everything but the Bagel seasoning, salt, and pepper

Optional: top with hot sauce, avocado, or salsa
Heat small skillet over medium heat and add avocado oil to begin warming.

Once the pan is hot, add the sweet potatoes and cook for 2 minutes, stirring constantly to get evenly defrosted.

Add bell peppers and cook for another two minutes to allow defrosting as well.

Add spinach and allow to wilt (if using fresh) or to defrost and warm (if using frozen).

Once all ingredients have defrosted and begin to brown, create two small wells for the eggs and turn the heat down to low.

Crack into a separate container to avoid shells and then gently pour one egg into each well.

Add water to the pan and cover with a plate or pot top and allow to cook covered until the eggs reach your desired doneness. (4 minutes for over easy, 6 minutes for over medium, and 8 minutes for over hard).

Carefully remove the plate from the pan and generously sprinkle with the Everything but the Bagel seasoning, salt, and pepper. If you like hot sauce, feel free to throw some of that one too (I personally like the jalapeño pepper hot sauce from Trader Joe's, which is #whole30approved).

Eat your breakfast (or dinner) right our of the skillet!
I hope you enjoyed this recipe! If you did, I'd mean the world to me if you saved it on Pinterest, recommended it to a friend, gave me a follow on Instagram, or left a review for the recipe below! Have a question, comment, or request for an upcoming post? Drop me a line in the comments!