My "Perfect Every Time" Roasted Broccoli
Truth be told, broccoli is my favorite veggie and I can eat it any way, any day. However, this recipe is for my non broccoli lovers because it will change your mind! These are wonderfully seasoned, crispy, and oh-so-easy to make!

I love prepping the raw broccoli for this recipe in a huge batch on Sunday and then cooking it up fresh each night in my oven or air fryer. I promise this will convert any broccoli hater in your household with just one batch!
Be Well, Stay Real, – Rach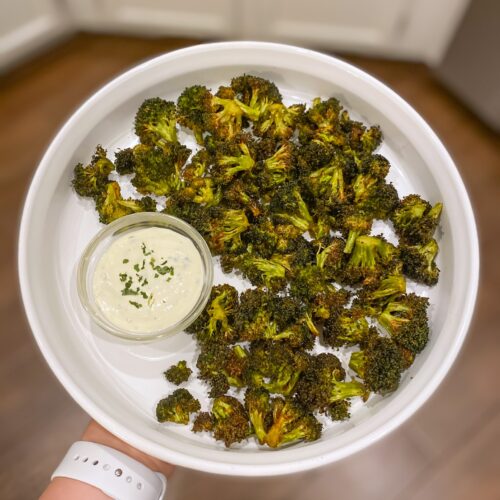 2 cups broccoli florets, mostly uniform in size (this seems like a lot but it will cook down to 1 cup)
1 Tsp each garlic powder, paprika, salt, and pepper
1. Preheat your oven or air fryer to 400 degrees and line a baking sheet with foil (if making in the oven).

2. Clean and thoroughly dry the broccoli (important so it roasts instead of steaming).
3. In a small bowl, whisk the spices into the oil until well combined.

4. In a large bowl, toss broccoli florets with the oil and spice mixture until evenly coated.
5. For the oven: Spread broccoli on the baking sheet in a single layer and bake in the oven for 15 minutes.
Remove from oven, toss broccoli to ensure even cooking, and return to the oven for 15 more minutes.

5. For the air fryer: Spread in an even layer in your air fryer and cook for 8-10 minutes, toss, and cook for another 8-10 minutes until crispy.
6. Enjoy immediately!

* PRO TIP: Just like my brussel sprouts, I don't like eating roasted broccoli that has been cooked and reheated. I prep a week's worth of raw broccoli and keep it in the fridge so I can easily cook up 1-2 cups each night!
I hope you enjoyed this recipe! If you did, I'd mean the world to me if you saved it on Pinterest, recommended it to a friend, gave me a follow on Instagram, or left a review for the recipe below! Have a question, comment, or request for an upcoming post? Drop me a line in the comments!