Paleo and Vegan Peach Cobbler
If you love peaches like I do, then you'll be making this recipe on repeat! This cobbler is SO ridiculously easy to make, tastes unbelievably good, and you'll never know it's paleo and vegan! It's the perfect addition to any summer BBQ, or can be made for the holidays using frozen peaches (which I recommend doing yourself by getting peaches while they are in season, slicing, and freezing).

The combination of sweet, soft peaches with a crispy topping is sure to be a crowd pleaser, and I don't think you should ever have to sacrifice deliciousness due to a dietary lifestyle choice or allergy! Don't like peaches? No problem! Feel free to substitute apples or berries instead depending on what's in season and tasty for your palette!
Be well, stay real –-Rach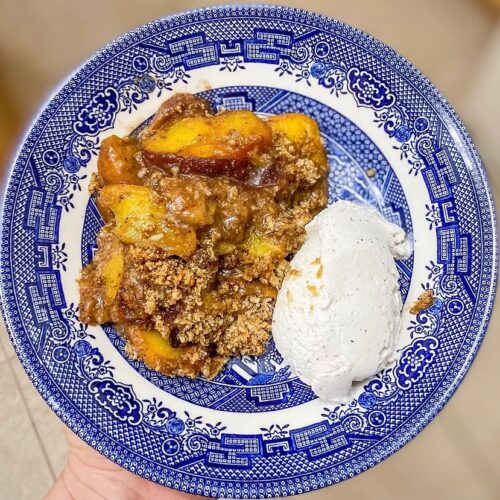 For the peaches
4 medium yellow or white peaches, washed and sliced

Juice of half a lemon

1 Tsp cinnamon

1/2 Tsp nutmeg

Pinch of cloves
For the topping
1 cup almond flour (can sub coconut of GF)

1/4 cup coconut sugar

2 Tbsp coconut oil

2 Tbsp ghee (omit and do 2 extra Tbsp coconut oil for vegan)

1 Tsp vanilla

1 Tsp cinnamon

1/2 Tsp salt

1/4 cup shredded coconut or oats (use coconut for paleo)
Preheat your oven to 375 and spray an 8×8 pan or pie plate with avocado oil.

Toss peaches with lemon juice and spices until evenly coated, set aside.

Using a spatula (not a whisk), combine all of the ingredients for the topping until you have a crumbly mixture.

Transfer the peaches to the greased pan in one even layer. Top with the crumble so they're evenly covered.

Cover the pan with foil and bake for 30 minutes. Remove foil & bake for another 10-15 minutes until the top is browned and slightly crispy.

Allow to cool for a few minutes before serving with a large spoon. Top with your favorite dairy free ice cream (mine is @nadamoo) or whipped cream and enjoy!
I hope you enjoyed this recipe! If you did, I'd mean the world to me if you saved it on Pinterest, recommended it to a friend, gave me a follow on Instagram, or left a review for the recipe below! Have a question, comment, or request for an upcoming post? Drop me a line in the comments!