Paleo Zucchini Banana Bread
Banana bread is a staple in my house and I usually make a batch for myself and Brett every weekend! However, it's fun to switch up the routine from time to time, and this is an amazing twist on a classic!
Never baked with zucchini before?
This veggie adds extra moisture and fluffiness without having any veggie taste (which means it's perfect for picky eaters!). My secret to incorporating zucchini into my recipes is to shred it on the fine side of a cheese grater with the skin on. Not only will this save you time, but it will ensure the zucchini doesn't break down too much during baking and become mushy. Once you've shredded your zucchini, it's critical to get as much moisture out of it as possible. I do this by grabbing an old dish towel and wringing out the extra water of the sink. Start to finish, the zucchini prep should take no more than 5 minutes! However, I find it's easiest to prep a bunch at one time and freeze the extra for the next time I want a zucchini recipe, I don't need to run to the store for one ingredient.
While I kept this recipe chocolate-free, feel free to add in some chocolate chips in addition to the nuts or in place of them! Either way, this recipe is so easy to make, tastes wonderful, and will help you get an extra serving of veggies in your diet! Save the recipe below, share it on social, and tag me when you whip of your own!
Be well, stay real –-Rach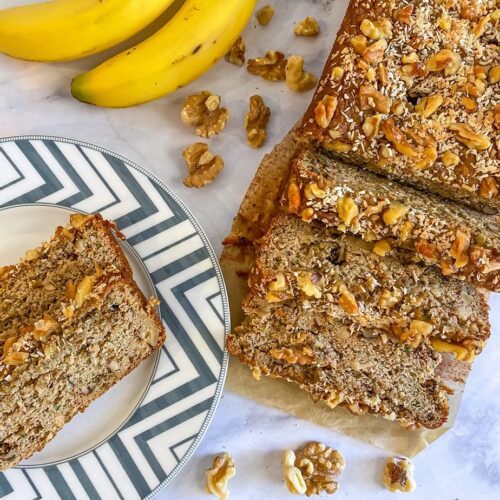 2 overripe bananas

1 medium zucchini, washed and dried

1/4 cup maple syrup or honey

2 pasture raised eggs

2 cups nut flour of choice (I used almond)

1 Tsp vanilla extract

1 Tsp cinnamon

1 Tsp baking soda

1/2 Tsp baking powder

1/2 Tsp salt

1 cup chopped walnuts

Optional for topping: extra chopped walnuts and/or shredded coconut

Also optional: 1/2 cup chocolate chips like Hu Kitchen
Preheat your oven to 350 and spray a loaf pan with avocado oil and line with a strip of parchment (for easy removal). You can also do 12 muffins.

Shred the zucchini by running it through the fine side of a cheese grater (no need to peel). Once shredded, place in a towel and wring our as much moister as possible. You need 1 cup shredded for this recipe, so save any extra for the next batch!

In a blender, combine the bananas, maple syrup/honey, eggs, and vanilla. Blend for 30 seconds so it's super smooth.

In a large bowl, whisk together the flour, cinnamon, baking soda, baking powder, and salt.

Pour in the blender contents and fold together with a rubber spatula until 80% combined.

Add the walnuts and shredded zucchini (and chocolate chips if using) and fold together the rest of the way.

Transfer the batter to the loaf pan or use an ice cream scoop to portion into 12 muffins.

Sprinkle some extra walnuts, coconut, or chocolate chips on top if desired.

Bake for 50-60 minutes for a loaf and 25-30 minutes for muffins.

Remove from the oven, allow to cool completely before cutting, and enjoy.
Pro tip: These will keep in the fridge for a week or freezer for a month (if they don't get eaten first!
I hope you enjoyed this recipe! If you did, I'd mean the world to me if you saved it on Pinterest, recommended it to a friend, gave me a follow on Instagram, or left a review for the recipe below! Have a question, comment, or request for an upcoming post? Drop me a line in the comments!