Paleo Mexican hot chocolate cookies
Holiday baking is my jam
and I love making healthy versions of some of my favorites and sharing them with you! Mexican hot chocolate is one of my favorite holiday treats and I think these cookies embody the all of the right flavors and are 100% guilt free. They are so soft, fluffy, and wonderfully spiced and your family will never know they're paleo!
I know you'll love all of the warm, spiced flavors of these cookies, and don't be afraid to add a little heat to them! Chocolate and spice are such a wonderful pairing, and I promise they do not tasty spicy. My hubby also recommends doubling the amount of chocolate and serving with hot cocoa, so now you have the "chef's choice" option as he likes to call it!

Be well, stay real — Rach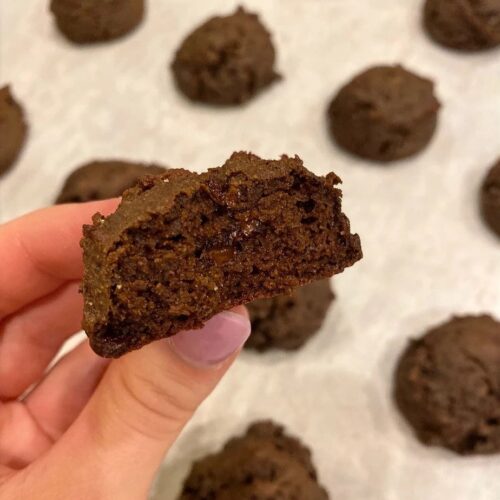 1/2 cup nut butter (your choice based on preference and allergies, I did almond)

1/2 cup pumpkin purée

1/3 cup honey or maple syrup

2 eggs

1/4 cup + 1 tbsp cacao powder

1 tsp vanilla extract (or seeds of 1 vanilla pod if you don't like using extract)

2 tbsp unsweetened almond milk (I use Califia Farms)

1/2 cup coconut or almond flour

1 tsp baking soda

1/2 tsp baking powder

1 tsp cinnamon

1/2 tsp each of nutmeg and cloves

Pinch of salt

1/4 cup paleo chocolate chips like Hu Kitchen
Preheat oven to 350 degrees.

Combine all wet ingredients and cacao powder in a blender and blend until smooth (30-45 secs, it should be thick and fluffy).

In a large bowl, combine flour, spices, baking soda, baking powder, and salt.

Fold wet ingredient mixture into dry ingredients along with the chocolate chips.

Use a medium sized ice cream scoop to portion 16-20 cookies onto a parchment lined cookie sheet.

Bake for 10-12 minutes until the outside is crisp and springs back when pressed.

Allow to cook and try not to eat them all at once!
I hope you enjoyed this recipe! If you did, I'd mean the world to me if you saved it on Pinterest, recommended it to a friend, gave me a follow on Instagram, or left a review for the recipe below! Have a question, comment, or request for an upcoming post? Drop me a line in the comments!