Fudge-y paleo chocolate pumpkin muffins
You guys know I love sweets and never turn down an opportunity to test new dessert recipes in my kitchen! With Valentine's Day (and my wedding anniversary) quickly approaching, I wanted something that would satisfy my chocolate craving without putting me in a sugar coma. If you're not a pumpkin fan, I promise you'll still love these! They do not taste like pumpkin, but it gives them the best, super moist texture!

So today, I'm excited to share my recipe for these amazing, fudge-y, cant believe they're paleo, muffins! You'll love them whether you're celebrating your Valentine, Galentine, or yourself!
You can whip these up in 5 minutes using your blender, so prep time and clean up are a breeze. The only struggle will be trying not to eat them all in one sitting (which I definitely did the first time I made these
). Enjoy!
Be well, stay real, — Rach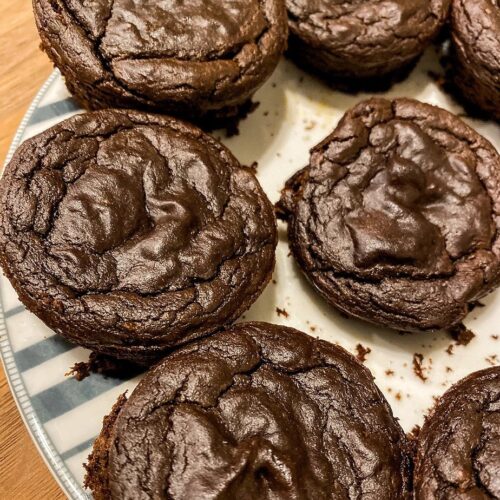 3/4 cup pumpkin purée

1/2 cup almond, cashew, or coconut butter

1/4 + 2 Tbsp cup honey or maple syrup

1 egg

6 Tbsp cacao powder

1 Tsp vanilla

1 Tsp cinnamon

1/2 Tsp each of baking soda and baking powder

1/2 Tsp salt

Optional: 1/4 cup paleo chocolate chips or chopped dark chocolate
Preheat your oven to 375 degrees. Prep a muffin tray by spraying it with avocado oil cooking spray.

Add all ingredients to a blender (or large bowl with an electric hand mixer) and blend until smooth.

Fold in chocolate chips or chopped dark chocolate if using.

Using an ice cream scoop, portion batter into the muffin tray (can do 12 smaller muffins or 9 large one).

Bake for 15-18 minutes depending on how big the muffins are.

Remove oven and test doneness with a toothpick or knife. If it comes out clean, allow muffins to cool for 10 minutes before gently removing from the tray by running a knife around the edge.

ENJOY!
I hope you enjoyed this recipe! If you did, I'd mean the world to me if you saved it on Pinterest, recommended it to a friend, gave me a follow on Instagram, or left a review for the recipe below! Have a question, comment, or request for an upcoming post? Drop me a line in the comments!