My best ever paleo banana bread
Breakfast is definitely my favorite meal of the day and I find myself craving sugary muffins and breads the most. I mean, it's too easy to grab your coffee and a breakfast pasty at the same time, right?
So today, I want to share with you my absolute favorite (and ridiculously easy to make) Paleo and GF banana bread that I look forward to waking up early for!
The best part about this banana bread is that you probably have all of the ingredient already lying around your kitchen so you can have this ready to go in the oven in 10 minutes or less! If you have overripe bananas you aren't ready to use, simply peel and freeze them. When your ready to make your banana bread, just defrost them in the microwave until they are mostly soft! I hope you enjoy!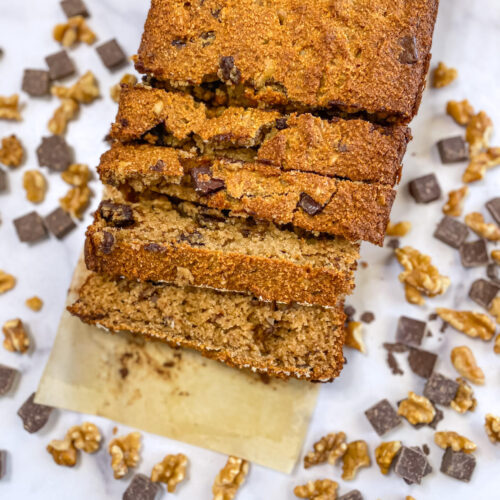 2 overripe bananas

2 large, pasture raised eggs

1/4 cup honey or maple syrup

2 cups nut flour (I like to do 1 cup coconut and 1 cup almond)

1 Tbsp. coconut oil

1 Tsp. organic vanilla extract

1 Tsp. cinnamon

1 Tsp. salt

1 Tsp. baking soda

1/2 Tsp. baking powder

Optional (but I always include them): 1/2 cup chopped walnuts
 
Optional: 1/2 cup paleo chocolate chips like Hu Kitchen or Thrive Market brand (if you aren't doing strict paleo, my favorite "regular" chocolate chips are from Enjoy Life)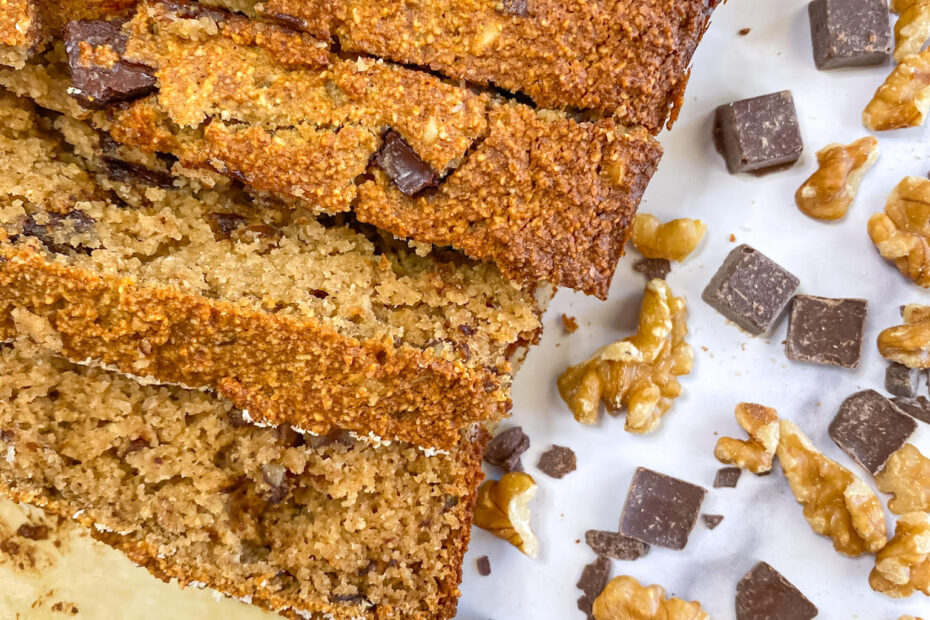 Preheat oven to 350 degrees.

Prepare a loaf pan by spraying with avocado or coconut oil and placing a strip of parchment paper down the middle of the pan with extra hanging over the sides for easy removal.

Combine all wet ingredients in a blender and blend on high for 30 seconds until smooth.

In a separate bowl, combine all dry ingredients and whisk to combine.

Fold wet ingredients and chocolate chips into the dry ingredients until smooth, but do not over-mix.

Carefully pour batter into the loaf pan and bake for 30-35 minutes until a knife or toothpick inserted into the middle comes out clean.

Allow to cool for at least 15 minutes before removing from the loaf pan with the flaps of parchment paper.

Slice bread based on how thick you like it and refrigerate for up to a week or freeze for up to a month.
I hope you enjoyed this recipe! If you did, I'd mean the world to me if you saved it on Pinterest, recommended it to a friend, gave me a follow on Instagram, or left a review for the recipe below! Have a question, comment, or request for an upcoming post? Drop me a line in the comments!