Jalapeño chimichurri you'll be topping everything with
One of my "best kept secrets" for never getting bored with eating healthy food at home is having amazing sauces to top your dishes with! Eating a steak, eggs, or veggies by themselves can be boring (or get boring after you've done it a ton). So if you're currently not using bottled sauces, or making your own at home, it's time to give it a try with this recipe!

This sauce is so insanely delicious and is the perfect topping for meats, veggies, and eggs. If you are afraid of any of it going bad (since it makes two full cups) you can freeze it by portioning the sauce into an ice cube tray, freezing well, then transferring the cubes to a ziploc bag for future use!
I promise that as soon as you give this recipe a try, you'll be hooked on it for life! I make a batch at least once a month, and anyways have some in my freezer to use at a moment's notice! Add all of these ingredients to your grocery list and thank me later!
Be well, stay real — Rach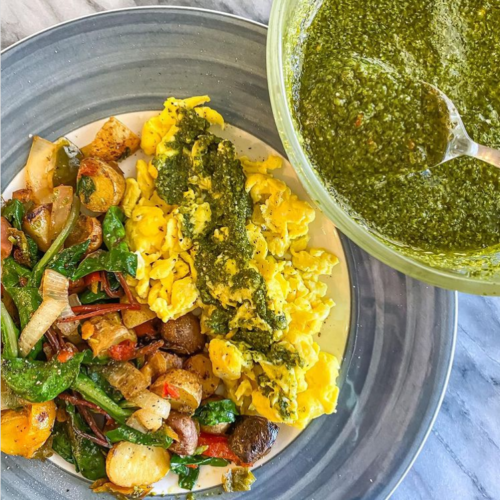 1/2 cup fresh basil leaves

1 bunch fresh cilantro

1 large bunch or 2 small bunches of fresh parsley

2 medium jalapeños

3/4 cup good olive oil

1/4 cup red wine vinegar

8 cloves garlic, minced

2 Tbsp. avocado oil

1 Tsp. cumin

1 Tsp. salt

Optional: 1 Tsp. red pepper flakes
Preheat oven to 400 degrees and line a small baking sheet with foil.

Clean and dry jalapeños, drizzle with the avocado oil, and roast in oven for 8 minutes. Flip and roast for another 8 minutes before removing.

Immediately place peppers in a sealed container or bag and allow the steam to help loosen the skin (approx. 10 minutes).

With gloves on (very important when handling the peppers), carefully remove the skin, seeds, and stem. Chop roughly and add to a blender or food processor.

Add all remaining ingredients (just remove the herbs from their stems by twisting off) except the olive oil and pulse blender or food processor until everything is consistently chopped.

Then with the blender or food processor running, slowly drizzle the olive oil in until fully combined. Serve immediately, store in the fridge for up to 5 days, or freeze for up to a month!
I hope you enjoyed this recipe! If you did, I'd mean the world to me if you saved it on Pinterest, recommended it to a friend, gave me a follow on Instagram, or left a review for the recipe below! Have a question, comment, or request for an upcoming post? Drop me a line in the comments!