Whole30 Chicken Alfredo that is to Die For
This post may contain affiliate links. Please read my disclosure policy.
Note: This recipe is Whole30, Paleo, Gluten Free, Dairy Free, and Soy Free!
I'm still on my pasta kick and have another killer recipe for you guys! Chicken Alfredo is one of my favorites, but I haven't ordered it at a restaurant in years since my dairy allergy diagnosis. I'm so happy to have this dairy free, gluten free, and #whole30approved option 🙌🏻 and if you're #vegan, just omit the chicken and you're good to go! Grab the full recipe below and watch my video walkthrough on my IGTV here!
xoxo -R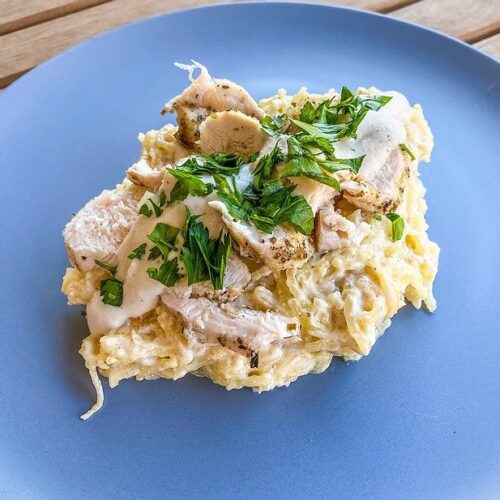 (For the sauce)
1 cup cashews, soaked and drained (either soak at room temp over night or soak in hot water for an hour)

1 cup almond milk (I use Califia Farms unsweetened original)

1/2 yellow onion, roughly chopped

2 Tbsp fresh minced garlic (or 2 Tsp of pre-minced refrigerated garlic)

Juice of 1/2 a lemon

1 Tsp salt

1 Tsp dried rosemary

1/2 Tsp black pepper
(For the chicken)
2 organic boneless, skinless chicken breasts

1/4 cup avocado oil

1 Tbsp Italian seasoning

1 Tsp each of garlic powder, onion powder, salt, and pepper
If you're making the chicken, begin by taking it out of the fridge 30 minutes before you're ready to cook it so it can warm up a bit, which helps it cook more evenly.

When you're ready to cook, preheat your oven to 400 degrees and line a baking sheet with foil.

In a bowl, whisk together the oil and seasoning for the chicken.

Give the chicken a nice little bath in the oil until both pieces are well coated.

Transfer to the baking sheet and bake for 20-25 minutes depending on their size and allow to rest for at least 5 minutes before slicing.

For the sauce, add all ingredients to a blender and blend on high for 60 seconds.

Transfer to a saucepan over medium-low heat and allow to simmer for 5-10 minutes, stirring occasionally.

With the noodle of your choice, toss with the sauce, add chicken on top, and finish with additional sauce, freshly cracked black pepper, and fresh parsley.
I hope you enjoyed this recipe! If you did, I'd mean the world to me if you saved it on Pinterest, recommended it to a friend, gave me a follow on Instagram, or left a review for the recipe below! Have a question, comment, or request for an upcoming post? Drop me a line in the comments!
[WPRecipeMaker condition="recipe" related="whole 30" limit="5"]