This post may contain affiliate links. Please read my disclosure policy.
Note: This recipe is Whole30, Paleo, Gluten Free, Dairy Free, Soy Free, and Keto friendly!
Chinese takeout is one of my favorites, but I usually avoid it because it can be full of salt, sugar, MSG, and other additives. This recipe fulfills all of my cravings and is so, so easy to make (thank you, crockpot)!
I'm lucky enough that one of my coworkers, who grew up making traditional Chinese food, turned me on to the deliciousness of 5-spice packets. I had visited Asian markets before, but never specifically looked for this flavor option. Well let me tell you, this flavor combo is SO good and I picked up a whole bag of packets from the market to have on hand at all times!
With a few modifications to make this Whole30 and Paleo friendly, I am so happy to have a go-to crockpot meal for when I'm craving Chinese takeout. Enjoy!
xoxo -R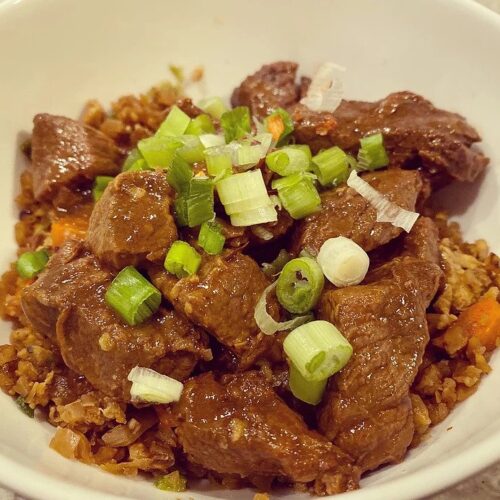 2 lbs beef stew meat (you can buy a larger cut and break it down, but I like getting it pre-cubed)

1/2 cup coconut aminos

1/2 beef bone broth

4 cloves garlic, rough chop

4 Tbsp fresh ginger (I do a rough chop to make 4-8 pieces)

One 5 spice packet (which you can buy at any Asian market, or make your own by combining 1 tsp each of: cinnamon, fennel, ginger, cumin, and cloves in a double layer cheese cloth or coffee filter with a tie)

1 tsp potato starch

2 tsp water

2 tbsp avocado oil
Begin by combining spice packet, garlic, ginger, coconut aminos, and bone broth in your crock pot and set the temperate to low.

Drizzle avocado oil on meat and stir to coat. Add meat to a preheated pan over medium-high heat and give it a quick, hard sear. It does not have to be cooked, just have a nice browning on the outside.

Add meat to the crockpot, stir to coat with coconut aminos mixture, and allow to cook on low for 4 hours, stirring once halfway through the cooking time.

Once the meat is done, separate the meat into a large bowl and strain the juices into a saucepan.

While the sauce is coming to a simmer over medium heat, whisk potato starch and water together in a small bowl to create a slurry.

While stirring the sauce constantly, slowly add the potato starch slurry. Allow to simmer for 5 minutes while the sauce thickens.

Pour sauce over the beef, mix, and serve over my cauliflower "fried" rice (recipe in a previous post and on the blog)!
I hope you enjoyed this recipe! If you did, I'd mean the world to me if you saved it on Pinterest, recommended it to a friend, gave me a follow on Instagram, or left a review for the recipe below! Have a question, comment, or request for an upcoming post? Drop me a line in the comments!
[WPRecipeMaker condition="recipe" related="whole 30" limit="5"]