Whole30 Fire Roasted Tomato Soup
This chilly winter weather (by Arizona standards) has gotten me in a "curl up on the couch, in my pjs, with a bowl of soup" kind of mood. When I was craving tomato soup, I figured it was a good opportunity for recipe testing!
Today I'm sharing a brand-new recipe for a fire-roasted tomato soup so good you won't believe it's Whole30 approved. It is creamy, a little spicy, and oh-so-warming on a chilly winter day. I served it up with a side salad for me and a grilled cheese for my husband (which is also a kid-friendly option!)
I know this is one everyone will love, and you can have it ready in just about 30 minutes. I hope you enjoy!
Be well, stay real — Rach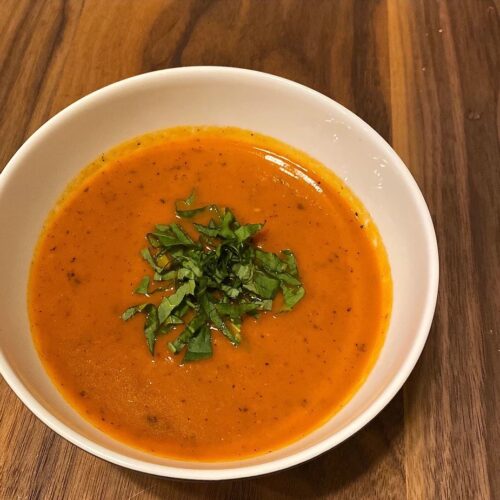 2 cans fire roasted tomatoes (I used Trader Joe's brand and it was spicy, so if you want this more mild, substitute one or both cans for regular crushed tomatoes)

4 Tbsp tomato paste

1 yellow onion, roughly chopped

3 cloves garlic, chopped or minced

32oz chicken bone broth (substitute vegetable broth for vegan)

2 Tbsp avocado oil

1/2 tsp each of salt, pepper, and oregano

1/2 cup full-fat coconut milk

Optional: basil for garnish
In a large sauce pan or stock pot, heat avocado oil over medium heat.

Add onions and cook for 2-3 minutes until soft but not brown. Add garlic and cook for 1 minute more.

Add tomatoes, tomato paste, salt and pepper, and chicken (or vegetable stock) to the pot and stir well.

Bring to a simmer, cover, and allow to cook for 30 minutes.

Reduce heat to low and using an immersion blender (or standard blender in batches), carefully blend the contents of the stock pot until smooth.

Add coconut milk and oregano, stir well, garnish with basil if using, and serve immediately or store (fridge for up to a week or freezer for up to a month).
I hope you enjoyed this recipe! If you did, I'd mean the world to me if you saved it on Pinterest, recommended it to a friend, gave me a follow on Instagram, or left a review for the recipe below! Have a question, comment, or request for an upcoming post? Drop me a line in the comments!