Whole30 Egg, Bacon, and Veggie Breakfast Burrito
I love breakfast foods more than The Bachelor (which is saying a lot) and I'm so happy to have a Whole30 approved on-the-go meal that I can whip up in less than 10 minutes! This quick & easy breakfast has 2 servings of veggies, checks all the boxes for protein, healthy fat, veggies and amazing flavor!

Be well, stay real –Rach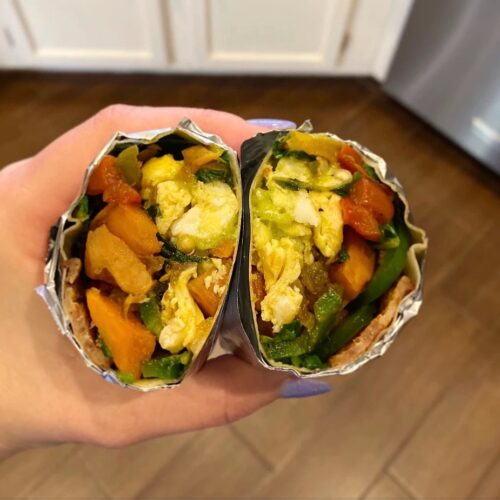 1 Thrive Market coconut wrap (this is the best Whole30/Paleo wrap I've found)

2 eggs

1/2 cup cubed sweet potato

1/2 cup tri-colored bell pepper

1/2 cup roughly chopped spinach or kale

1 strip paleo bacon, precooked

1 Tbsp avocado oil

Sprinkle of salt, pepper, and Everything but the Bagel seasoning

Optional: thinly sliced jalapeño and a side of salsa for dipping
Begin by laying down a piece of aluminum foil (if eating within 2 hours) or parchment paper (if eating later), place your coconut wrap on it, and add the strip of pre-cooked bacon.

Heat a small skillet over medium heat and add avocado oil to the pan.

Add the sweet potato to the pan and allow to cook (1-2 mins if fresh, 2-3 mins if frozen).

Next, add the peppers (including jalapeño if using) and cook for 1-2 mins if fresh and 2-3 mins if frozen.

Finally, add the spinach or kale, stir all veggies well, and allow to wilt for 1 minute.

Transfer veggie mix to the coconut wrap and return the pan to the stove over low heat.

Crack eggs into a small dish, whisk, and add to the pan. Work constantly with a spatula to cook until soft and fluffy.

Transfer the eggs to the wrap and sprinkle with salt, pepper, and seasoning.

Roll the wrap like a burrito but DO NOT fold in the ends of the coconut wrap itself. Instead, fold in the sides of the parchment paper or aluminum foil to retain the contents. If using parchment paper, use 2 pieces of regular tape to ensure the whole thing stays together.

Enjoy immediately (with your side of salsa) or reheat in the microwave for a minute when you're ready to eat and just tear away the wrapper as you need to to keep the burrito together while you eat!
I hope you enjoyed this recipe! If you did, I'd mean the world to me if you saved it on Pinterest, recommended it to a friend, gave me a follow on Instagram, or left a review for the recipe below! Have a question, comment, or request for an upcoming post? Drop me a line in the comments!