If you love breakfast as much as I do, then you have to love a good frittata! During the week, I'm usually good with scrambled eggs, egg cups, or hard boiled eggs, but on the weekend, I like to switch it up.
I'm excited to share my recipe for a Whole30 veggie frittata for one. It's the perfect way to get veggies in the morning and it'll help you use up any leftovers from the week that might otherwise go bad.
Whatever you're weekend breakfast routine looks like, I know you'll love switching it up with this one!
Be well, stay real — Rach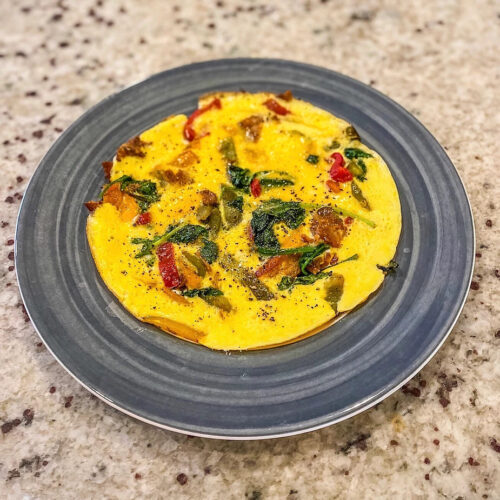 1/4 of a yellow onion, thinly sliced

1 cup bell pepper, sliced (I like the tri-colored blend from @traderjoes)

1 cup spinach or kale, roughly chopped

3 eggs

2 Tbsp full fat coconut milk

2 Tbsp avocado oil

Generous sprinkle of salt and pepper
Begin by warming the avocado oil in a small saucepan over medium heat (the size of the pan will dictate the size of the frittata so make sure it's not too big).

Add the onions to the pan with a sprinkle of salt and allow them to "sweat" for 2-3 minutes. They should become translucent but not brown.

Next, add the peppers and allow them to cook for 3-4 minutes with the onions. If you are using frozen peppers, increase the time to 4-6 minutes.

While waiting for the veggies to cook, whisk the eggs together with the coconut milk until you have a very smooth, even consistency.

Add the kale or spinach to the pan, salt and pepper all veggies well, and cook for 30 seconds to allow greens to wilt.

Turn the heat down to medium-low, create one even layer of all of the veggies, and carefully pour the eggs into the pan.

Cover with a plate or pot lid and allow to cook for 5-7 minutes until the eggs are cooked all the way through.

Carefully run a spatula along the edges of the frittata and let it slide out of the pan onto a plate.

Top with your favorite condiments like avocado, hot sauce, or salsa and enjoy!
I hope you enjoyed this recipe! If you did, I'd mean the world to me if you saved it on Pinterest, recommended it to a friend, gave me a follow on Instagram, or left a review for the recipe below! Have a question, comment, or request for an upcoming post? Drop me a line in the comments!