This post may contain affiliate links. Please read my disclosure policy.
I think most of us can agree that pasta is a wonderful treat meal (and one I personally love)! That being said, a meal with a large serving of heavy, processed carbs can leave you feeling sluggish along with spiking your blood sugar (eventually leading to a crash).
I wanted to create a recipe that would give you all of those yummy Italian vibes without any of the bloating, fatigue, or regret afterwards! This recipe can easily be whipped up for a weeknight dinner and I love serving it over zoodles, spaghetti squash, or GF noodles depending on what I'm in the mood for.
If you and your family isn't on the zoodle train yet, this is the perfect dish to get introduced to it! The flavors are amazing and the zoodles do not taste like veggies at all once mixed with the sauce and topped with some fresh herbs. I know you'll be making this one on repeat, or making a huge batch of sauce to keep on hand in the freezer!
Be well, Stay real,
– Rach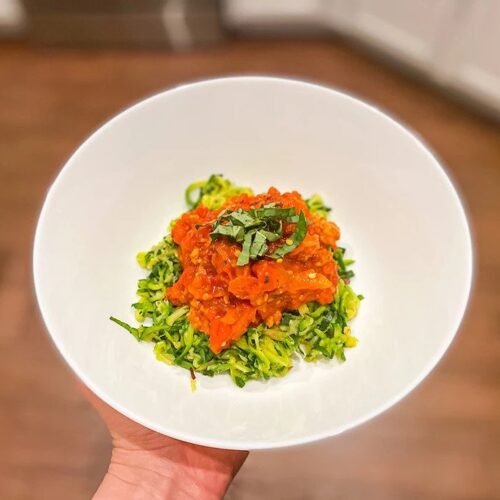 – 1.5 pounds ground turkey (chicken or beef will also work)
– One 40oz jar of marinara sauce (or 2 20oz jars, just read your labels)
– 1/2 of a white or yellow onion, diced
– 4 cloves garlic, minced
– 1 Tbsp Italian seasoning
– 1 Tsp red pepper flakes (optional and can be adjusted based on how spicy you want it)
– 2 Tbsp avocado oil
– 1 Tsp salt, divided
– 1 Tsp black pepper
1. Begin by warming the avocado oil over medium heat in a large saucepan with a tall side or a stockpot.
2. Add the onion and sprinkle with half of the salt. Allow to cook, stirring occasionally, for 3-4 minutes until translucent, but not brown.
3. Add garlic and allow to cook for another minute.
4. Turn the heat up to medium high and add your ground turkey (or whatever you're using). Using a metal or hard plastic spatula, break apart and brown the meat for 7-10 minutes until fully cooked.
5. Strain off excess fat and return the pan to the stove over medium heat.
6. Add the marinara sauce and remaining seasoning and allow to simmer for 5-10 minutes until the sauce is fully warmed through.
7. Serve over your preferred noodle option and top with some fresh basil!
*PRO TIP: This sauce freezes so well! Make a double batch and freeze half for the next time you're craving a pasta night!
I hope you enjoyed this recipe! If you did, I'd mean the world to me if you saved it on Pinterest, recommended it to a friend, gave me a follow on Instagram, or left a review for the recipe below! Have a question, comment, or request for an upcoming post? Drop me a line in the comments!
[WPRecipeMaker condition="recipe" related="whole 30" limit="5"]