My Go-To Meal Prep Meatballs
One of my absolute favorite Whole30 meal prep items is meatballs. I make a huge batch of them and then can either keep them in the fridge for a week or freeze them for a month so they're ready to go in a flash!
I know you'll be glad to have these on hand for a quick weeknight dinner, or the next time you need to bring an item to a potluck. Enjoy!
Be well, stay real — Rach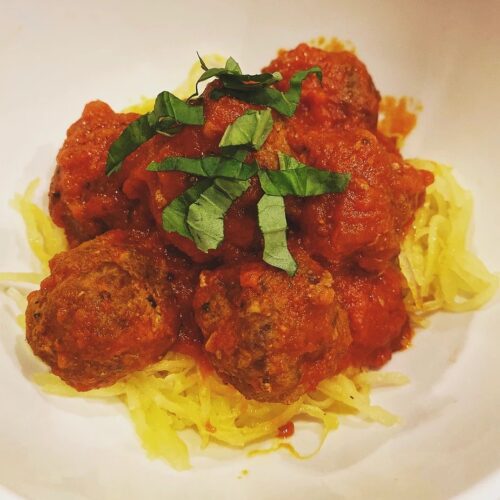 2.5 pounds ground beef or turkey

1/4 cup almond or coconut flour

2 eggs

1 tbsp coconut oil (only use if you're using ground turkey)

1 tbsp Italian seasoning

2 tsp onion powder

1 tsp garlic powder

1 tsp kosher or sea salt

1/2 tsp red pepper flakes

Generous shake of freshly ground black pepper

2 jars Whole30 compliant marinara sauce of your choice (I buy mine from Thrive Market, which has a variety of options to choose from!)
Preheat oven to 350 degrees and line 2 roasting pans with foil (you can use any pan that has a lip so the juices don't spill all over your oven).

Combine all ingredients in a large mixing bowl by hand. I find this gets the greatest incorporation of the flour and eggs into the meat.

Using an ice cream scoop or tablespoon, portion meat into your hand and gently roll into a ball.

Form all meatballs and place on foil lined trays (it usually creates 40 for me).

Bake meatballs in preheated oven for 25 minutes.

If freezing, once meatballs are done, allow to cool completely before transferring to a freezer safe bag or container.

If using immediately, transfer meatballs to crockpot right after removing from the oven.

Cover meatballs with jarred marinara sauce and allow to simmer on low for 2 hours.

Serve immediately over your favorite noodle or noodle alternative (I love spaghetti squash) or store in the fridge for up to a week!
I hope you enjoyed this recipe! If you did, I'd mean the world to me if you saved it on Pinterest, recommended it to a friend, gave me a follow on Instagram, or left a review for the recipe below! Have a question, comment, or request for an upcoming post? Drop me a line in the comments!