Who else is a coffee addict like me? This one is for you (and it can make it coffee free for the non-addicts, too). I drink coffee (one cup only) every day, and can get bored on the regular brewed stuff. That being said, I don't want to get a sugary drink from a coffee house and during a Whole30, it's not an option.
So I took matters into my own hands and have the perfect recipe to make one at home! This dirty chai has robust flavors of cinnamon, cardamom, nutmeg, star anise, and clove which pairs perfectly with some freshly brewed coffee or espresso. Add in some frothy vanilla nutpods and you have a sure fire winner! This recipe is great hot or iced, which means you can enjoy it all year round and never have to sacrifice flavor during your next Whole30!
I know this will satisfy all of your cravings for something sugary from Starbucks while helping to keep you on track with your health and wellness goals. Enjoy!
Be well, stay real — Rach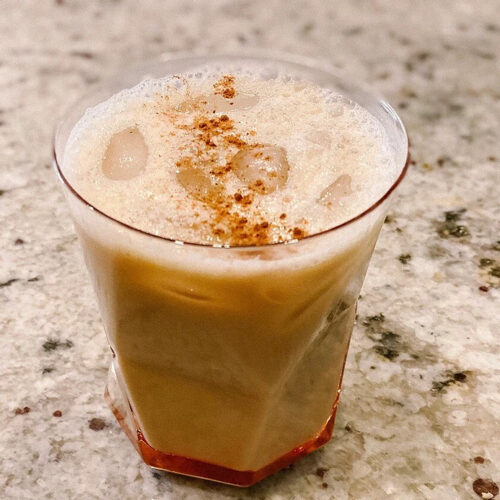 2 chai tea bags (I use Trader Joe's brand)

2 Tbsp ground espresso or coffee (omit if you're coffee-free)

6 oz. boiling water

4 oz. vanilla nutpods

1 scoop collagen peptides

1/2 Tsp pumpkin pie spice (cinnamon will work well if you don't have this spice blend on hand)
Add ground coffee and tea bags to a french press and cover with boiling water.

Allow to steep for 3-5 minutes depending on how strong you like your coffee (you can test and learn here to find your perfect balance).

While the tea/coffee is steeping, put the nutpods in a microwave safe cup and warm for 30 seconds.

Remove nutpods from microwave, add collagen peptides and spice, and froth for 30 seconds with an electric whisk until the creamer has doubled in volume.

Strain the tea/coffee into a coffee mug, or over ice, and pour the creamer over the top.

Give a quick stir to combine and sprinkle a little spice on top (because it looks nice).

Enjoy!
I hope you enjoyed this recipe! If you did, I'd mean the world to me if you saved it on Pinterest, recommended it to a friend, gave me a follow on Instagram, or left a review for the recipe below! Have a question, comment, or request for an upcoming post? Drop me a line in the comments!