Classic chia seed pudding
Breakfast is definitely my favorite (and the most important) meal of the day. However, it's also the meal I struggle with the most because mornings are busy and we are all short on time. This is why I absolutely love easy, make ahead breakfast options that I can prep for the whole week!
So today, I want to share with you my insanely easy chia seed pudding that you can you can prep for the whole week and customize each day with different toppings!
As much as I love eggs, it is easy to burn out (especially when I'm doing Whole30) when you're having eggs for breakfast every day. I usually have all of the necessary ingredients in my pantry/fridge to make this on a whim, but if you don't, these are staples I would recommend having on hand all the time. I hope you enjoy!
Be Well, Stay Real — Rach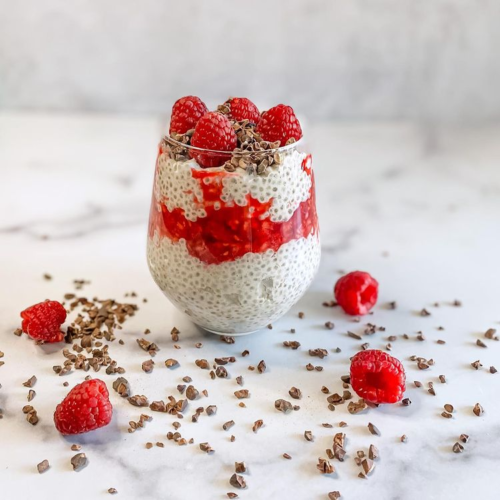 For the Pudding (per serving):
2 tbsp. chia seeds

1 scoop collagen peptides

1/2 cup full fat coconut milk

1/2 cup almond milk

1/4 tsp. cinnamon
My favorite toppings:
Berries (fresh or frozen)

Cacao nibs (I get my chocolate fix with all the amazing benefits of this superfood)

Shredded coconut

Almond butter (I like Kirkland brand and it is only has two ingredients!)

Paleo granola *Omit for Whole30* (I love Paleonola and buy it on Thrive Market)
*Note: I like to make at least 4 servings at a time to get me through most of the week!
Begin by adding the chia seeds, collagen peptides, and cinnamon to your preferred storage container (tupperware, mason jar, etc.)

In the 1 cup measure, add the 1/2 cup of coconut milk and 1/2 cup of almond milk. (I do a half and half mix because I have found that doing a full cup of coconut milk can be too oily and leave a film in my mouth)

Add the milk to the container with the chia seeds, place the lid on, and give it a good shake. (Really though, shake it like a polaroid picture)

Place in the refrigerator and wait one hour. (It is important to give the chia seeds some time to bloom before returning).

Return to the fridge and give the chia seeds another really good shake. (At this point, you can let them sit overnight in the fridge and it will be the perfect consistency when you wake up!)

After letting the chia seeds bloom in the fridge for a few hours or overnight, top with your favorite goodies and enjoy!
I hope you enjoyed this recipe! If you did, I'd mean the world to me if you saved it on Pinterest, recommended it to a friend, gave me a follow on Instagram, or left a review for the recipe below! Have a question, comment, or request for an upcoming post? Drop me a line in the comments!