Cinnamon Glazed Sweet Potatoes
This post may contain affiliate links. Please read my disclosure policy.
Note: This recipe is Paleo, Gluten Free, Dairy Free, Soy Free, and Vegan!
Sweet potatoes may be my favorite side dish and I didn't fully appreciate them until I did my first Whole30 back in 2017. Getting away from processed grains and going gluten free opened my eyes to creative alternatives for starchy carbs that nourished my body, while still tasting great. So if you're sick of eating a plain baked sweet potato, I got you!
The flavors of this side dish remind me of Thanksgiving when my mom and sister always make a sweet potato casserole that is to. die. for. However, it's more of a dessert than a side dish since it's full of butter and sugar (but hey, it tastes amazing)! Well, that recipe inspired me to make this one since it has the same flavor profile, but none of the added crap that I try not to eat on the regular.
You'll love meal-prepping these potatoes for your week and they are delish for breakfast and dinner because of the sweet flavor profile! Feel free to make a double (or triple) batch and just re-heat as needed, you'll thank me later when you don't have to fire up the oven every day!
Be well, stay real,
– Rach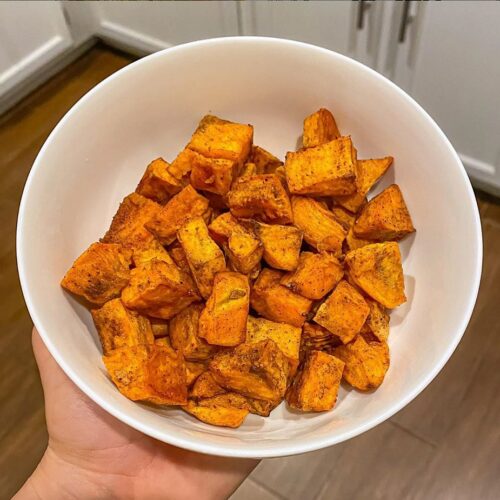 1 large sweet potato, peeled and large diced

1 Tbsp coconut oil

1 Tbsp maple syrup (omit for Whole30)

1/2 Tsp cinnamon

1/4 Tsp nutmeg

1/2 Tsp salt
Preheat your oven to 375 and line a baking sheet with foil.

Whisk the oil, maple syrup (if using) and seasoning together.

Toss the cubed sweet potato in the oil mixture and spread in one even layer on the baking sheet.

Bake for 15 minutes, remove from oven and toss to ensure even cooking, then bake for another 15 minutes.

Enjoy immediately or store in the fridge for up to a week!
I hope you enjoyed this recipe! If you did, I'd mean the world to me if you saved it on Pinterest, recommended it to a friend, gave me a follow on Instagram, or left a review for the recipe below! Have a question, comment, or request for an upcoming post? Drop me a line in the comments!
[WPRecipeMaker condition="recipe" related="whole 30" limit="5"]