Chocolate Peanut Butter Cookies
I'm not much of a vegan baker, but when my husband received a food allergy diagnosis of eggs, coconut, almonds, and cashews it gave me a push to think outside the box with my baked goods! Normally almost all of my paleo baking includes ones of those ingredients, so I've been busy in the kitchen whipping up some new things!
Candidly, I've never been into vegan baking because I assumed it wouldn't be as good as paleo treats, but boy was I wrong! These cookies are TO DIE FOR (literally taste like a peanut butter cup!) and no one will ever know they are vegan, naturally sweetened, and flour-less. The whole family will love these and will never know how healthy they are! Enjoy!
Be well, stay real –-Rach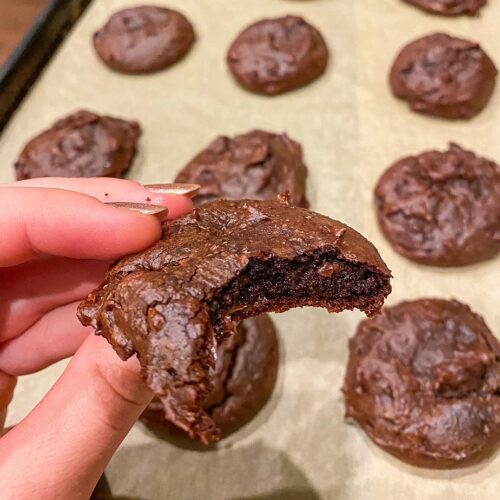 1/2 cup peanut butter (Look for ones with only two ingredients: peanuts and salt. Costco brand is a great choice!)

1/2 cup maple syrup (can use coconut sugar if you don't have an allergy)

4 Tbsp ground flax seeds

5 Tbsp water

1 Tbsp applesauce

1 Tsp vanilla

1/4 cup cacao powder, sifted

1/2 Tsp baking soda

1/2 Tsp salt

1/2 cup chocolate chips (I used Enjoy Life since it's allergy friendly!)
Preheat your oven to 350 and line a baking sheet with parchment.

In a small bowl, whisk together the ground flax and water, set aside for 5 minutes. (You can sub 2 regular eggs if you aren't vegan and don't have an allergy).

In a large bowl, mix together the peanut butter and maple syrup (whisk or spatula is fine).

Mix in the flax eggs, applesauce, and vanilla until smooth.

Fold in the sifted cacao powder, salt, and baking soda until 80% combined. Add in the chocolate chips and fold to combine the rest of the way.

Using an ice cream scoop, portion out the cookies and bake for 13-15 minutes until they spring back when pressed.

Let cool and enjoy!
** PRO TIP: These cookies seem to only get tastier over time, so keep them at room temp is an airtight container!
I hope you enjoyed this recipe! If you did, I'd mean the world to me if you saved it on Pinterest, recommended it to a friend, gave me a follow on Instagram, or left a review for the recipe below! Have a question, comment, or request for an upcoming post? Drop me a line in the comments!