Chocolate Covered Strawberry Chia Seed Pudding
Valentine's (and Galentine's) Day is upon us and I think it's the perfect time to treat yourself (or your significant other) with a special breakfast or snack! You know I'm all about the desserts and treats, but want to give you options to satisfy your cravings without derailing your goals! This recipe is Whole30, Paleo, GF, and Vegan and is so, so tasty – I know you'll be making it long after Valentine's Day is over!
Be well, stay real — Rach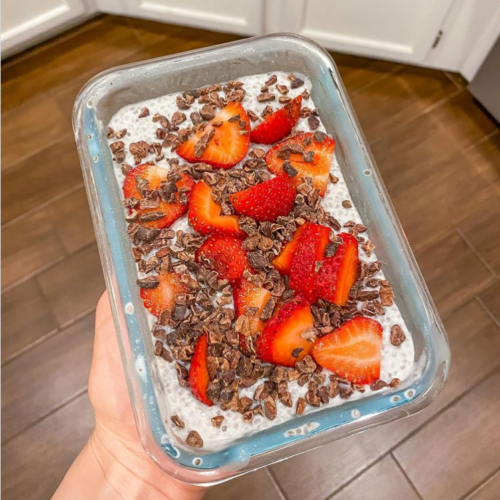 1/2 cup full fat coconut milk

1/2 cup almond milk (I use Califia Farms unsweetened original)

2 strawberries for the pudding (plus extra for topping)

1 to 2 Tsp 100% cacao powder (depending on how chocolaty you like it)

2 heaping Tbsp chia seeds

1 scoop collagen peptides (omit for vegan)

Cacao nibs, slivered almonds and/or paleo granola
In a blender, blend together milks, strawberries, cacao powder, and collagen.

Add contents to a sealable container with chia seeds, shake well, and place in fridge.

One hour later, remove from fridge, shake well, and allow to sit for at least another hour (or up to overnight)

When you're ready to eat, remove from fridge and top with cacao nibs, sliced strawberries (I would limit it to another 2 berries), and slivered almonds!

ENJOY!!
I hope you enjoyed this recipe! If you did, I'd mean the world to me if you saved it on Pinterest, recommended it to a friend, gave me a follow on Instagram, or left a review for the recipe below! Have a question, comment, or request for an upcoming post? Drop me a line in the comments!