Whole30 Chipotle Lime Shrimp
I love seafood, and this dish is great for a date night at home or when you're having friends over. I promise, whoever you're making it for will have no idea it's Whole30 approved! I love serving this protein on a taco bar or straight up with a side of veggies. Both the shrimp and sauce can be whipped up in a flash, so you'll have dinner on the table in 15 minutes! Enjoy!
Be well, stay real — Rach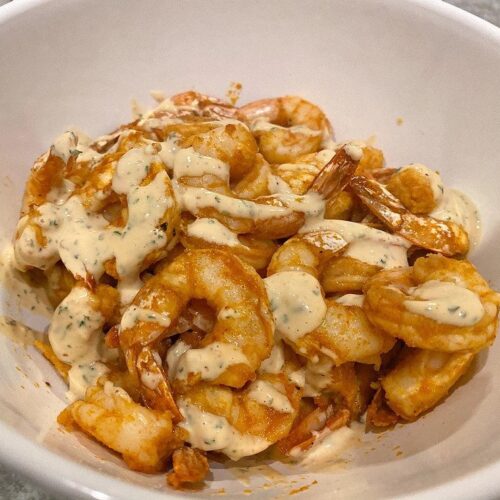 1 lb of fresh (or frozen and thawed), wild caught peeled and de-veined shrimp. I typically buy 31-33, which means there are 31-33 shrimp per pound.

2 limes, juiced and divided

2 Tbsp avocado oil

1/2 Tbsp dried parsley

1 Tsp each of garlic powder, onion powder, paprika, and salt

1/2 Tsp each of crushed red pepper flakes, ancho chile powder (can omit), and black pepper
Preheat your oven to 400 degrees and line a baking sheet with foil.

Rinse and thoroughly dry the shrimp before transferring them to a large bowl.

Toss shrimp with oil, juice of one lime, and all seasonings except the parsley.

Place shrimp on the baking sheet in one single layer and bake in the oven for 6-8 minutes (these cook extremely fast). They'll be pink throughout when you remove them but not overly browned.

While the shrimp are cooking, whisk together the mayo, lime juice, and parsley for your sauce (seriously, that's it!)

Transfer shrimp to a large serving bowl, drizzle your sauce over the top, and enjoy!
I hope you enjoyed this recipe! If you did, I'd mean the world to me if you saved it on Pinterest, recommended it to a friend, gave me a follow on Instagram, or left a review for the recipe below! Have a question, comment, or request for an upcoming post? Drop me a line in the comments!