This post may contain affiliate links. Please read my disclosure policy.
Note: This recipe is Paleo, Gluten Free, Dairy Free, and Soy Free!
If you're like me and love Chinese take out, then save this recipe immediately! Pad Thai is one of my go-to dishes and this will give you all of the amazing flavors without any soy, additives, or heaving carbs from noodles. You will never believe this dish is Whole30 approved, I know I sure don't (and your family won't know either)!
You'll love how many veggies are jam packed in this dish, while tasting like a comfort food! It's perfect for meal prep on Sunday, and like all take out, is even better when eaten the next day. I highly recommend making a double (or triple) batch, because this is gone in no time in my house! Now grab your chopsticks and head to the kitchen!
Be well, stay real,
-Rach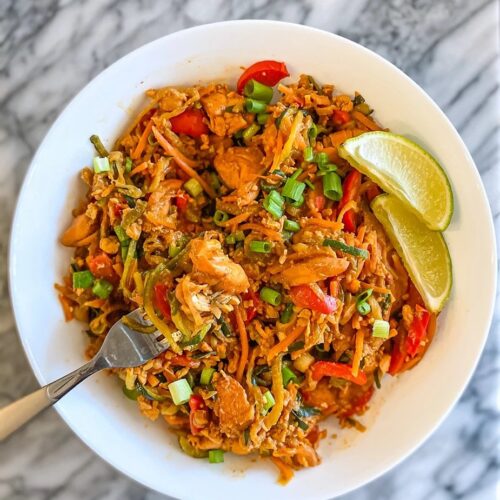 (For the chicken)
1 lb chicken breast, sliced

1 Tbsp coconut aminos (I use @thrivemarket brand)

1 Tsp each of sesame oil, fish sauce, 1 Tsp garlic powder, 1 Tsp ground ginger
(For the sauce)
4 Tbsp coconut aminos

2 Tbsp almond butter

Juice of one lime

1 Tbsp each of rice vinegar, fish sauce, & hot sauce (I use @yellowbirdsauce – can adjust or omit based on your spice preference)

1 Tsp sesame oil
(For the noodles)
2 boxes frozen zoodles (I get them at @traderjoes)

1 red bell pepper, thinly sliced

1 cup shredded carrot

2 cloves garlic, minced

1 Tbsp fresh ginger, grated

1 bunch green onion, sliced

4 Tbsp avocado oil

2 eggs, whisked
Prep chicken by marinating in seasonings for 10-15 minutes while prepping the other ingredients. Chop veggies, whisk together all ingredients for the sauce in a small bowl, and microwave the zoodles in a large bowl to defrost and strain off the water.

Add chicken to a large saucepan (with a tall edge) with 2 Tbsp avocado oil over medium heat.

Allow to cook through (4-5 mins) and remove from pan, set aside.

Add remaining oil to the same pan with carrots, peppers, and the white part of the sliced green onion. Sauté for 2-3 minutes before adding the garlic and ginger for 1 minute.

Move veggies to one side in the pan and add eggs to the pan to cook. Once scrambled, combine with the veggies.

Add zoodles and chicken to the pan along with the sauce, and toss well.

Simmer for 8-10 minutes, remove from heat, and top with the green part of the onion.

Serve immediately, refrigerate for up to 3 days, or freeze for up to a month.
I hope you enjoyed this recipe! If you did, I'd mean the world to me if you saved it on Pinterest, recommended it to a friend, gave me a follow on Instagram, or left a review for the recipe below! Have a question, comment, or request for an upcoming post? Drop me a line in the comments!
[WPRecipeMaker condition="recipe" related="whole 30" limit="5"]