Whole30 Chicken Fajitas with Avocado "Sour Cream"
This post may contain affiliate links. Please read my disclosure policy.
Note: This recipe is Whole30, Paleo, Gluten Free, Dairy Free, and Soy Free!
Fajita veggies may be one of my favorite ways to eat peppers and onions. I love the caramelized flavor and color and they are a breeze to make! This recipe works perfectly with every protein I've tried, so while it calls for chicken, feel free to mix it up with steak or shrimp!
This is a crowd pleaser around my house and I know your family will love it (and they won't even know it's Whole30 approved!) Enjoy!
xoxo -R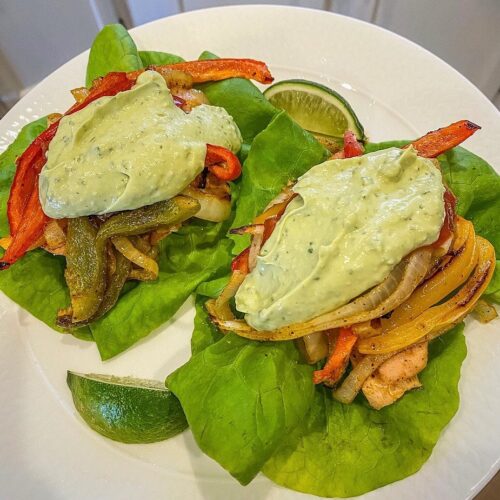 (For the fajitas)
1 to 2 lbs sliced chicken

1 yellow onion, sliced into crescents

3 bell peppers, sliced (I like to do 1 red, yellow, and green)

1/2 cup avocado oil

1 Tbsp of my homemade taco seasoning (grab the recipe off my feed)

Juice of 1 lime

Generous sprinkle of salt and pepper

Optional: a few shakes of hot sauce to taste

Optional: lime wedges for garnish
(For the "sour cream")
2 ripe avocados

1/2 cup loosely packed cilantro

1/2 cup Chosen Foods avocado mayo

Juice of two limes

1/2 Tsp salt

1/2 Tsp black pepper

Optional: a few shakes of hot sauce to taste
Preheat your oven to 400 degrees and line two rimmed baking sheets with foil.

Place the peppers and onions in a large bowl (with enough room to toss) and keep the chicken in its own bowl.

Whisk together the avocado oil with all of the fajita seasoning and split the mixture between the veggies and chicken.

Toss to coat well and then spread the veggies and chicken in a single layer on their own baking sheets.

Bake for 20-25 minutes until the chicken is cooked through and the veggies are cooked down and browned.

While the fajitas cook, make the avocado "sour cream" by pulsing all ingredients in a food processor or blender for 30 seconds.

Remove the fajitas from the oven and serve immediately in a fajita bowl or on some lettuce "tortillas." (If you're not on Whole30, my favorite tortilla is from Siete Foods)

Top with salsa, "sour cream" and garnish with extra cilantro or lime wedges.

Enjoy the fiesta!
I hope you enjoyed this recipe! If you did, I'd mean the world to me if you saved it on Pinterest, recommended it to a friend, gave me a follow on Instagram, or left a review for the recipe below! Have a question, comment, or request for an upcoming post? Drop me a line in the comments!
[WPRecipeMaker condition="recipe" related="whole 30" limit="5"]