Chai spiced snickerdoodles
This recipe is inspired by my sister who has a gluten allergy and loves #chai everything! If you're a fan of #snickerdoodles, these are guaranteed to please. I've even included an easy swap for butter if you have a dairy allergy.
My favorite part of making these cookies is how they make the house smell afterwards! It seriously smells like you walked into Santa's Workshop, so I 10/10 recommend making a batch ahead of a holiday party or gathering when you want your place to smell amazing!
Be sure to save this one, and share it with your cookie loving besties, because it'll quickly become an instant holiday classic!
Be well, stay real — Rach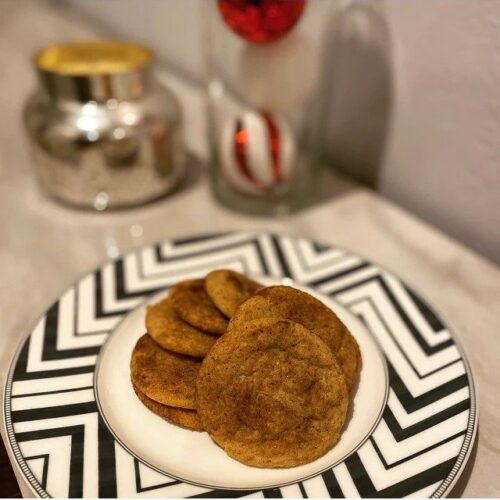 1 stick grass-fed butter, softened (or 1/2 cup solid coconut oil or palm shortening for paleo)

3/4 cup + 2 Tbsp coconut sugar

1 + 1/4 cup GF flour (I always used Bob's Red Mill 1:1 GF Flour)

1/2 tsp baking soda

1/2 tsp salt

1 egg

1 tsp cinnamon

1/4 teaspoon each of ground nutmeg, clove, and cardamom

1/2 teaspoon vanilla

1/2 teaspoon orange zest

1/4 teaspoon ground ginger
In a stand mixer or with an electric hand mixer, cream together butter and sugar (except for the 2 Tbsp). Add the egg and mix well to combine.

Add the vanilla, orange zest, and ginger, and give one final mix before switching over to a rubber scraper.

In a separate bowl, whisk together flour, baking soda, and salt.

Working slowly, fold the flour mixture into the wet ingredients with the rubber scraper. Only work until all of the flour is combined (do not over mix).

Place dough in the fridge and allow to rest for at least 15 minutes (up to overnight).

When you're ready to bake, preheat oven to 350 and line a baking sheet with parchment paper.

Take the dough out of the fridge and allow it to warm slightly so it's easier to scoop.

In a small bowl, combine the 2 Tbsp of coconut sugar with the remaining spices for the coating.

Using a mini ice cream scoop, portion the dough into your hand and roll in the coating until completely covered. Place on the baking sheet. Repeat until all cookies have been made.

Bake for 10-13 minutes until the edges are barely golden brown and cookies spring back when touched.

Remove from oven, allow to cool, and put cookies out for Santa (or eat them all yourself 😊)
I hope you enjoyed this recipe! If you did, I'd mean the world to me if you saved it on Pinterest, recommended it to a friend, gave me a follow on Instagram, or left a review for the recipe below! Have a question, comment, or request for an upcoming post? Drop me a line in the comments!