Whole30 Buffalo Chicken Casserole
This post may contain affiliate links. Please read my disclosure policy.
Note: This recipe is Whole30, Paleo, Gluten Free, Dairy Free, & Keto friendly!
I don't know about you guys, but I'm obsessed with buffalo sauce! I've always loved wings, buffalo chicken dip, and it's my preferred sauce at Chick Fil A 😂 Well this casserole checks all the right boxes: it's easy to make, perfect for meal prep, freezes well, and tastes amazing!
You'll love that this recipe only take 5-10 minutes to whip up and makes 6 large servings to feed the whole family, or feed yourself for multiple meals. If you've never cooked your own spaghetti squash at home, it's a breeze to make and you can follow my tutorial here. Grab the full recipe below, watch my walkthrough on IGTV, and ENJOY!
Be well, stay real,
xoxo -R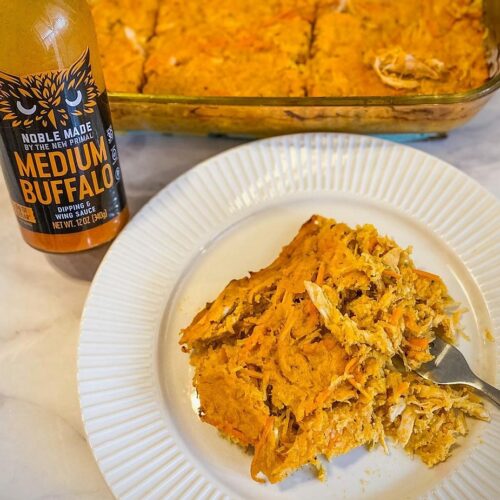 2 to 3 cups of shredded chicken (I just buy a rotisserie chicken and shred it by hand)

4 cups spaghetti squash

1 cup shredded carrot

3 eggs

1 cup #whole30approved buffalo sauce (like my favorite from @thenewprimal)

1/2 cup Whole30 compliant ranch (bottled or homemade)

2 Tsp onion powder

1 Tsp garlic powder

Salt and pepper to taste (about 1 Tsp each)
Preheat your oven to 350 and spray a 9×13 baking dish with avocado or coconut oil spray.

Using a spatula, mix together all of the ingredients until uniformly combined.

Transfer to the baking dish and spread to create an even layer.

Bake for 25-35 minutes (really dependent upon your oven, climate, and amount of chicken) until the edges are golden brown and all of the eggs have cooked through.

Remove from the oven, allow to cool, then cut into 6 equal servings.

Enjoy immediately, refrigerate for up to 5 days, or freeze for up to 3 months!
I hope you enjoyed this recipe! If you did, I'd mean the world to me if you saved it on Pinterest, recommended it to a friend, gave me a follow on Instagram, or left a review for the recipe below! Have a question, comment, or request for an upcoming post? Drop me a line in the comments!
[WPRecipeMaker condition="recipe" related="whole 30" limit="5"]