This post may contain affiliate links. Please read my disclosure policy.
Note: This recipe is Whole30, Paleo, Gluten Free, Dairy Free, Soy Free, Vegan, and Keto friendly!
I think a common misconception about Whole30 is that you can't enjoy any "fun" drinks during the program. I want to throw that myth in the trash right now and show you that you 100% can have tasty beverages while going through Whole30 or if you've chosen not to drink alcohol!
It is so much easier than you think to make a delicious drink at home and this recipe is a fan favorite in my house! Admittedly, mojitos are my go-to cocktail at restaurants, but since I'm not drinking right now, it's nice to have an alternative at home. You can easily make a big pitcher of this for a party (or for yourself) and enjoy it 100% guilt free. Grab the recipe below, whip up a batch, and enjoy!
Be well, stay real,
xoxo -R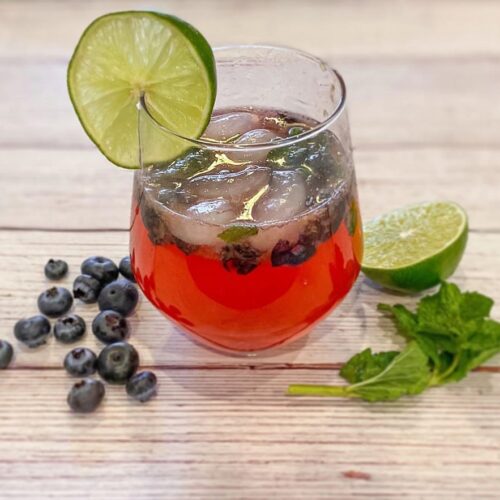 2 blueberry tea bags (my go-to is @celestialtea)

8oz. cold water

Handful of blueberries

1/2 a lime (plus 1 wedge and a wheel for garnish)

3 to 4 mint leaves

6 oz. lime sparkling water (I like @lacroixwater or @bublywater)

Optional: 2 oz. light rum
Make your blueberry "syrup" by steeping the tea bags in 8oz cold water overnight in the fridge. If you're in a pinch, you can steep in hot water for 8-10 minutes and let chill in the fridge.

Muddle the blueberries, mint leaves, and lime wedge together. I find the easiest way to do this is in a bowl using the bottom of a glass cup to apply pressure. Transfer to a glass if you were using a bowl.

Add in the 2 to 4 oz. of the blueberry "syrup," freshly squeezed juice of 1/2 a lime, and rum (if using). Stir or shake well to combine. At this point, you can strain out the blueberries, mint leaves, and lime wedge if you don't like these in your drink.

Pour over a glass filled with ice and top with 6 oz. of sparkling water. Stir to combine and garnish with lime wheel or extra mint leaves.

ENJOY 🥳
I hope you enjoyed this recipe! If you did, I'd mean the world to me if you saved it on Pinterest, recommended it to a friend, gave me a follow on Instagram, or left a review for the recipe below! Have a question, comment, or request for an upcoming post? Drop me a line in the comments!
[WPRecipeMaker condition="recipe" related="whole 30" limit="5"]