One Pan Beef and Veggie Stir Fry
If you've been following me for awhile, you know I love Chinese take out, but hate all the additives that are usually found in it. Americanized Chinese food you would typically order at a restaurant is known for being full of salt, sugar, MSG, and preservatives. If you are following a particular dietary lifestyle, or have food allergies (especially soy), it is usually better to avoid eating at these restaurants all together unless you can see full ingredient lists.
Today, I've got a great recipe for a "next level" beef and broccoli you can make in 15 minutes and it's so good, you won't even miss the fortune cookie! I love mixing up the combination of veggies and hope you can find your own personal favorite combo.
You can serve this dish over my cauliflower fried rice (find the recipe here), in lettuce cups, or by itself because it's super filling on its own. I hope you enjoy this one as much as I do!
Be well, stay real — Rach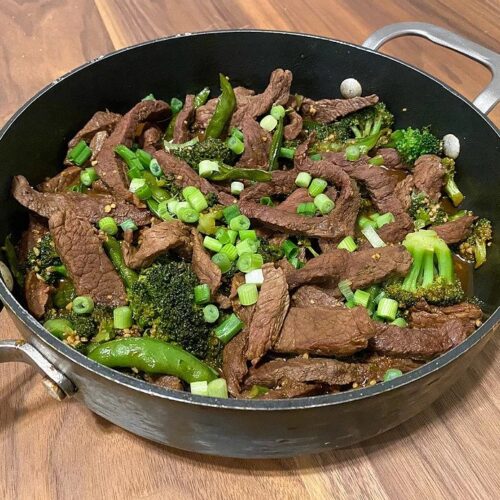 1.5 pounds pre-sliced stir fry beef

1 heaping cup broccoli florets

1 heaping cup sugar snap or snow peas

1/3 cup coconut aminos (a soy sauce substitute made from the sap of a coconut palm)

2 Tbsp avocado oil

1 Tbsp minced garlic

1 Tbsp freshly grated ginger

1 Tbsp toasted sesame oil

1 Tsp hot sauce (I like the Trader Joe's jalapeño hot sauce and Yellowbird Sriracha that's made with dates)

Optional: Sliced green onion for garnish
Begin by whisking coconut aminos, sesame oil, garlic, ginger, and hot sauce together. If you've never broken down raw ginger before, I recommend peeling it with a spoon (no joke) and then running it through a cheese grater.

Heat a large, tall sided saucepan over medium-high heat and add avocado oil to warm. Toss in the meat and stir constantly while it browns for 2-3 minutes (it cooks fast!).

Add coconut amino sauce you whisked up and stir to coat meat evenly. Bring to a simmer and allow to reduce slightly for 2-3 minutes.

Add broccoli, stir to combine, cover, and allow to steam for 2-3 minutes.

Toss in your sugar snap or snow pears, stir to combine, and allow to steam covered for a final 2-3 minutes.

Remove from heat, top with scallions if using, and serve over my cauliflower fried rice (recipe in story highlights), in lettuce cups, or eat by itself!
I hope you enjoyed this recipe! If you did, I'd mean the world to me if you saved it on Pinterest, recommended it to a friend, gave me a follow on Instagram, or left a review for the recipe below! Have a question, comment, or request for an upcoming post? Drop me a line in the comments!