Whole30 Balsamic Glazed Pot Roast with Carrots and Sweet Potatoes
It may almost be April, but I'm holding onto every day with cooler temps here in Arizona before it's officially summer. This pot roast is so warm and comforting, it makes me want to curl up on the couch in my pj's (which is one of my favorite past times). This is a cinch to make thanks to your crockpot and you can start it in the morning and it'll be ready to go for dinner. What's better than that!
Be well, stay real — Rach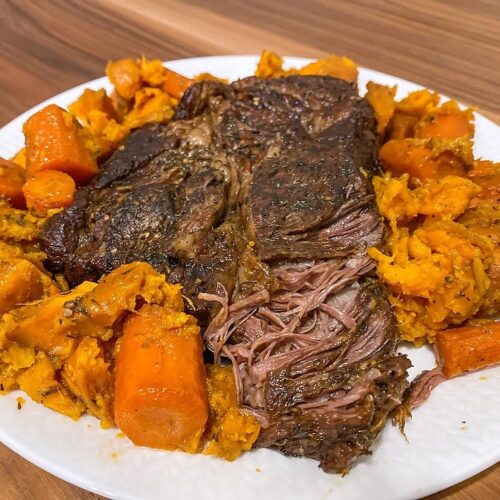 2 lb beef chuck roast (I always buy organic, grass fed)

1 yellow onion, quartered

2 large sweet potatoes, peeled and cut into chucks

3 large carrots, peeled and cut into large chunks

1/3 cup balsamic vinegar

1 Tsp each of minced garlic, oregano, and thyme

Generous drizzle of avocado oil and seasoning of salt and pepper
Begin by heating a large sauce pan over medium high heat. While it warms up, prep your meat.

Coat the entire roast in avocado oil, salt, and pepper, before carefully transferring to the pan.

Sear beef for 2 minutes per side (without disturbing), before transferring to your crockpot. It will not be cooked through, just have a nice crust.

Whisk vinegar and spices together for your sauce.

Add veggies around the roast, top with the sauce, and allow to cook on low for 8 hours (without opening the lid).

When done, discard onions, remove veggies and beef, and strain the sauce.

Serve up immediately or store in the fridge for up to a week. The sauce is perfect for keeping this moist whenever you're ready to eat it.
I hope you enjoyed this recipe! If you did, I'd mean the world to me if you saved it on Pinterest, recommended it to a friend, gave me a follow on Instagram, or left a review for the recipe below! Have a question, comment, or request for an upcoming post? Drop me a line in the comments!