Whole30 Balsamic Glazed Brussel Sprouts
I'm always testing new recipes and sometimes, I hit a home run! Roasting veggies is one of my favorite ways to eat them and this is my new go-to for a weeknight meal. Whether you already love brussel sprouts, or are curious about giving them a try, this is a great place to start.
Brussel sprouts are a type of cabbage and offer so many health benefits being a part of the cruciferous veggie family. If you normally opt for asparagus, broccoli, or a salad with dinner, try switching it up with these to diversify your plate. You might think the balsamic vinegar would make these bitter, but the oven works some serious magic to reduce the vinegar and make a wonderful glaze.
The best part? These take no time at all to make, they pair perfectly with any protein or on a salad, and you can easily meal prep them for the whole week (see my tip below on doing this). Enjoy!
Be well, stay real — Rach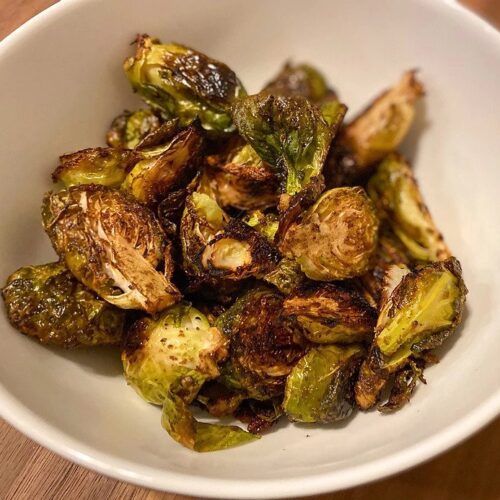 2 cups clean and dried brussel sprouts, halved

2 Tbsp avocado oil

2 Tbsp #whole30approved balsamic vinegar (just read your label and make sure there is no added sugar)

1 Tsp onion powder

1 Tsp garlic powder

Generous sprinkle of freshly cracked salt and pepper
Preheat your over to 400 degrees and like a baking sheet with foil.

Toss halved brussel sprouts in a bowl with oil, vinegar, and seasoning.

Arrange spouts on the baking sheet in a single layer and bake for 10 minutes.

Remove sprouts from the oven, toss to ensure even cooking, and return to the oven for a final 10 minutes.

Remove from oven, enjoy, and try not to eat them all yourself!
Pro-tip: I don't particularly like reheating cooked sprouts like this so I prep a huge bag of them for the week – like 8 cups – and keep it in the fridge. Each night, I'll portion out and roast 2 cups worth.
I hope you enjoyed this recipe! If you did, I'd mean the world to me if you saved it on Pinterest, recommended it to a friend, gave me a follow on Instagram, or left a review for the recipe below! Have a question, comment, or request for an upcoming post? Drop me a line in the comments!