Air Fried Brussel Sprouts with Spicy Aioli
This post may contain affiliate links. Please read my disclosure policy.
Note: This recipe is Paleo, Gluten Free, Dairy Free, Soy Free, and Vegan!
As promised, here is the perfect side dish to pair with my air fried Whole30 buffalo wings! This recipe was inspired by the fried brussel sprouts appetizer at BJ's restaurant that I love, but I think these might be better. The sprouts are perfectly crispy and will please even the pickiest eater (like my husband).
Whether you're whipping these up as an appetizer or side dish, you won't be able to stop eating these! They are like candy (for people who love veggies) and will make a veggie eater out of your resistant family members or kids! With a few ingredients and 20 minutes, you'll have these ready to go. Enjoy!
Be well, stay real,
-Rach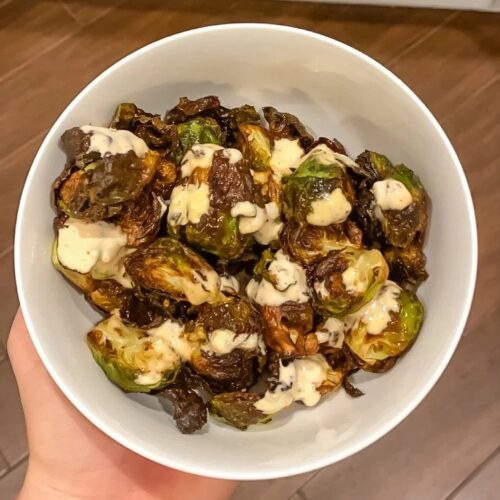 (For the sprouts)
1 lb brussel sprouts, washed and halved

2 Tbsp avocado oil

1/2 Tsp salt
(For the sauce)
1/4 cup mayo (I use @chosenfoods avocado mayo, but you can use vegan mayo if you're plant based)

1 Tsp to 1 Tbsp @yellowbirdsauce sriracha (depending on how spicy you like it)

Squeeze of fresh lemon juice (about 1 Tsp)

Pinch of salt

Water, almond milk, or coconut milk (to thin to the perfect consistency)
Toss the brussel sprouts in the oil and sprinkle with salt.

Add to your air fryer and cook at 390 for 9 minutes. Open the fryer, toss the sprouts, and cook for another 9 minutes.

While the sprouts are cooking, whisk together all of the ingredients for the aioli expect the water/milk. Slowly add water/milk as the last step to get your desired consistency.

Remove sprouts from the fryer and serve immediately with the sauce (either on top or on the side for dipping)!
* PRO TIP: Buy a few pounds of sprouts and wash/chop them all at once and store in the fridge. When you're ready for dinner, portion out your sprouts and they'll be ready to go!
I hope you enjoyed this recipe! If you did, I'd mean the world to me if you saved it on Pinterest, recommended it to a friend, gave me a follow on Instagram, or left a review for the recipe below! Have a question, comment, or request for an upcoming post? Drop me a line in the comments!
[WPRecipeMaker condition="recipe" related="whole 30" limit="5"]